The robins are back, lured north early by a warm spell. It's a welcome song to hear after a Covid winter.
Simple things seem all the better when the weather has been foul.
The first robin in my yard is always named Hilda, after my Grandma Dale.
I wrote the piece below in 2018. Still true. Spring brings special energy when we need it most. (Lightly edited for clarity.)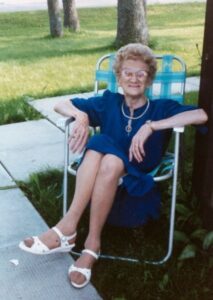 My Grandma Dale passed away about three decades ago but I get an annual reminder of her when spring rains wash away what's left of winter.
She was strong of character and belief with a warm heart and didn't take much guff as far as I could tell. Grandma Dale was a tough old bird, Irish Anglican is but a hint of her foundation, and she was laid to rest in the cemetery with her bible in hand on the east side of Cobden.
My son never met her, unfortunately, but I tried to put a thought about her in his mind when he was a very young lad. It came about during a conversation about the everlasting spirit of the people we love and how the essence of our energy continues on in the natural world. I can't quite recall how I phrased that for my four-year-old.
The example I used at the time, though, was greeting the first robin to arrive as Hilda, my dad's mom.
"Look at that, Hilda is back," I said, explaining it could have part of her spirit returning for a visit.
Similar pains
It was something to bring up every spring.. And I still do think of her when the robins return, and by association, my father and the Dale clan a bit more than usual. When alive and during annual visits (we always lived about a day's drive away so our time together was fleeting) Grandma was always so concerned about me as we shared similar hip pains, mine coming early and hers somewhat later in life. She was probably extra kind to all the kids and it just felt special to me.
Widowed relatively young, as my Grandpa Rhorison Dale died not long after I was born in 1965, and far from rich with never-ending challenges (she raised more than her own children), I considered her one of the strongest of the family. She certainly had spirit to spare.
I believe our spiritual energy never travels in one piece on this endless circle of life. It's more of a recycling philosophy than reincarnation.
Whatever you want to call it, Hilda returns every spring and brings her energy along. And that's good enough for me.

Dave Dale
Writer, photographer and proud father. My mom's family is from the Soo with its Algoma Highlands, dad hailed from Cobden in the Ottawa Valley and I spent my teen years in Capreol. Summers were at the beach on the Vermillion River and winters at 'The Rink.' Born in East York but Toronto never was my thing. Ever since a kid looking out the window on long trips, I imagined living on the highway in a little house with a big yard and trees growing all around me.