The North Bay Golf and Country Club is teeing off its 100th anniversary in fine fashion tonight.
A multi-media retrospectives by Clark Communications is taking place at 7 p.m. with a virtual open house. Here's the LINK to sign up for the webinar.
YourTV will also have a show at 8 p.m., and when restrictions are eventually lifted at the club house, it's hoped a limited number of members at a time may be able to stroll down memory lane with static displays and placards transcending the decades.
As part of the celebration, long-time member and artist Jack Lockhart unveiled a centennial painting, with prints to be sold as a junior golf fundraiser. He also designed the anniversary logo.
Next week, copies of Back in the Bay's inaugural print edition features four pages sponsored to deliver expanded coverage of the 100th anniversary. Half a dozen members and builders were interviewed with excerpts put together in a story with several photos, plus a page of timeline highlights. A longer version of the story with more quotes and photos will be posted to the Small Town Times website on Mother's Day.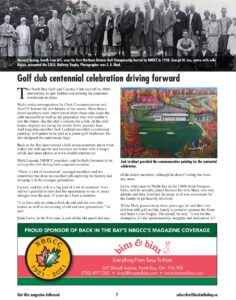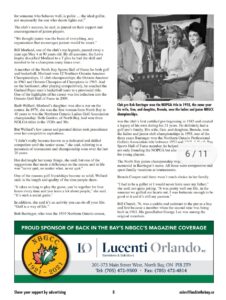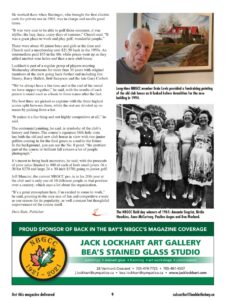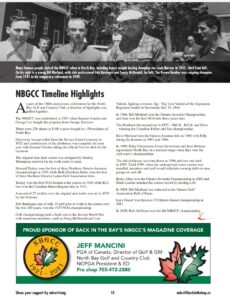 Send your mailing address to subscribe@backinthebay.ca if you want a copy of the inaugural Spring 2021 edition plus the next two editions (Summer and Fall) delivered to your door for $30 (tax included). Or call Dave Dale at 705.498.2050 if you have any questions or ideas.

Dave Dale
Writer, photographer and proud father. My mom's family is from the Soo with its Algoma Highlands, dad hailed from Cobden in the Ottawa Valley and I spent my teen years in Capreol. Summers were at the beach on the Vermillion River and winters at 'The Rink.' Born in East York but Toronto never was my thing. Ever since a kid looking out the window on long trips, I imagined living on the highway in a little house with a big yard and trees growing all around me.