The North Bay Golf and Country Club teed off its 100th anniversary in epic fashion April 29. A four-page spread in the inaugural Back in the Bay Magazine, sponsored by advertisers, was part of the celebration. A longer version of the story published in print is below. The festivities also included a retrospective by Clark Communications and a YourTV feature with the iconic Peter Handley conducting interviews about the rich history of the course.
See the club's website for links. At the club house, displays are set up for strolls down memory lane and long-time member Jack Lockhart unveiled a centennial painting, with prints being sold as a junior golf fundraiser. He also designed the anniversary logo.
Mark Lucenti about course record curse and Big Lou
Mark Lucenti, NBGCC president, said he feels fortunate to be serving the club during such a special occasion.
"There's a lot of excitement" amongst members and the committee has done an excellent job capturing the history and bringing it to the younger generation.
Lucenti said the club is a big part of a lot of members' lives and he's grateful to have had the opportunity to see so many changes over the past 33 years he's been a member.
"I've been able to witness both the old and the new club houses as well as the mixing of old and new generations," he said.
Lucenti holds the course record at 61 strokes and he said it was a bitter-sweet curse that visited him July 4, 2003 when 26 years old.
"I couldn't make any mistakes," he said about the round of his life, adding he has "no idea" how it came about. He said Bill Morland, who had set the record previously at 66 in 1973, didn't say much after Lucenti broke the record, just: "Nice round, kid."
The next day, Lucenti said he started out with a hot hand again, notching three birdies until the PGA dreams evaporated with seven bogies that followed.
"It absolutely ruined golf for me for about 10 to 15 years," he laughed, admitting he's comfortable now making a few birdies but a lot more bogies and plenty of double bogies.
To contrast true golf skill to his strike of lightning brilliance one time, Lucenti recalled a round with the accomplished Canadian pro golfer Al Balding, who at 74 years old could strike a one-yard draw or cut down the middle of the fairway at will. Meanwhile, Lucenti and his cohort were zigzagging between the stakes.
"He didn't say anything on the course when the three of us were all over the course," he said, but when back at the clubhouse, someone asked "how did the kids play" he said: "They'd be better off painting their golf balls and making it an Easter egg hunt."
The special thing about golf, Lucenti said, there are days when you can shoot pars "and for a second, you can actually feel you're really good."
Lucenti said they try to keep the same 'Stanley Thompson essence' whenever they do an alteration, making sure the result offers a designer's vista from the tee. One example the redesign of #11 with the tee complex extended. They cut the trees back a bit to bring the creek into view, same for No. 2 where you get "an awesome golf shot from each level."
Mark's father, Bob Lucenti, is a former president of the club, and they enjoyed their share of father-son memories together.
His time on the course with his Uncle Lou Valenti, however, stands out in a different way.
'Like a grandfather'
"He was like a grandfather to me," Lucenti said, describing how everybody else considered him a hero as well from is Second World War service in the Algonquin Regiment.
"That's something I truly cherish," he said of being able to golf with him.
'Big' Lou Valenti landed at Normandy but he was like many vets and remained quiet about it. Before he died, Lucenti said they wanted to bring him to Normandy but it wasn't something he wanted to do.
Interestingly, after they watched Saving Private Ryan at the theatre on Main Street, Lucenti asked him if the movie portrayed the battle scenes accurately: "The only thing they didn't get was the smell," Valenti said.
Ernie Levis' print a contest prize, plus organic roots for course
Ernie Levis, in his 91st year, is part of the old guard and one of the eldest members, although he doesn't swing the irons any more.
Levis, who came to North Bay in the 1960s from Sturgeon Falls, said he actually joined because his wife Mary was very athletic and they lived not far away, so it was convenient for the family to get heavily involved.
While Mary passed away three years ago, he said their two children still golf and the family is proud to sponsor the Ernie and Mary Levis Trophy. The award, he said, "is not for the champion, it's for sportsmanship, integrity and dedication, it's for someone who behaves well, is polite … the ideal golfer, not necessarily the one who shoots lights out."
The club's success, he said, is pinned on their support and encouragement of junior players.
"We thought junior was the basis of everything, any organization that encourages juniors would be smart."
Levis describes with some pleasure the club's organic roots, noting the Scottish shepherds invented the game while hitting turds while walking out to the pasture. It only makes sense, he said, that the MacIntosh farm in Widdifield was central to this club's origin, with the No. 4 tee where the old farm house sat.
"That's the story, rumour and legend," he joked, adding seriously that the Lees, MacIntoshs, Normans and Morlands were among a core group of families that got it started on the right footing.
The founding president was Senator George Gordon who represented the Nipissing Riding in the House of Commons 1908 to 1911.
Gordon provided the initial loan to build the course and then later forgave it while renown golf course architect Stanley Thompson was brought in to design the original nine holes in 1921. The expansion to the current 18-hole, par 72 championship course began when designed by Howard Watson in the late 1950s and finished in the early 1960s.
Levis said there was a big boost in golfers in the district after Bob Kennedy developed the Pinewood Park course in the 1960s, allowing more people to get into the sport with many transitioning later to the North Bay club.
Bill Morland among Ontario legends
Bill Morland, one of the club's top legends, passed away a year ago May 4 at 90 years old. By all accounts, the Levis trophy described Morland to a T plus he had the skill and mindset to be a champion many times over.
A member of the North Bay Sports Hall of Fame for both golf and basketball, Morland won 12 Northern Ontario Amateur Championships, 11 club championships, the Ontario Amateur in 1963 and Ontario Champion of Champions in 1965. He was instrumental in growing the sport in Northern Ontario, serving as a director for the Northern Golf Association for more than 40 years and represented the region at the provincial level. A past-president of the NBGCC 1958-60, Morland served the board for many additional years. And on the hardcourt, after playing competitively, he coached the Garland Pepsi men's basketball team to a provincial title. One of the highlights of his career was his induction into the Ontario Golf Hall of Fame in 2009.
Barb Wellard, Morland's daughter, was also a star on the course. In 1978, she was the first woman from North Bay in 40 years to win the Northern Ontario Ladies Golf Association championship. Beth Gordon, of North Bay, had won three NOLGA titles in the 1920s and 30s.
But Wellard's law career and parental duties took precedence over her competitive aspirations.
"I didn't really become known as a dedicated and skilled competitor until the senior scene," she said, referring to a mountain of tournament and championship wins over the last 20 years.
Her dad taught her many things, she said, but one of the suggestions that made a difference on the course and in life was "never quit, no matter what, never quit."
One of the reasons golf friendships become so solid, Wellard said, is the length and quality of the time people share.
"It takes so long to play the game, you're together for four hours every time and you learn a lot about people," she said. "It's such a social game."
In addition, she said it's an activity you can do all your life: "Golf is a way of life."
The club is right up there with the Laurentian Ski Hill as an attraction for people looking to locate in North Bay, Wellard said. It's 10 minutes away from anywhere and compared to southern Ontario prices, NBGCC is affordable.
Her son, Michael, took it into account when moving back and the club has experienced an upsurge in use, likely due to people seeking a safe outdoor sport during the pandemic. For the first year in a while, there's a waiting list for members and long lines for those wanting to join various groups.
NBGCC slow to evolve, Wellard says
Wellard said, if anything, the club was slow to evolve and has become much more inclusive for everybody.
Women were still not able to enter the main bar area of the old club – the 'men's beverage room' – right up to when it was torn down in 1994.
"Juniors were not allowed in the club house period, they had to hang out in the back," she said, adding women had restricted tee times and couldn't play until after 11 a.m. on weekends and not at all Wednesday afternoons.
"It used to drive me crazy," she said, with 19-year-old boys able to play when she couldn't.
Opposition to change continued into the 2000s, Wellard said, despite a number of years with motions being defeated before the majority agreed.
As for the pandemic closing of golf courses during the third wave of COVID-19, she said it's "ludicrous" due to the protocols and natural distancing involved. But she also noted it's usually too cold to golf right now anyway. They got one round in at Osprey when it hit an unseasonably 21C and had "lots of fun."
Bob Barringer, who won the 1939 Northern Ontario crown, was the club's first certified pro beginning in 1945 and created a legacy of his own during his 21 years. He definitely had a golf pro's family. His wife, Gen, and daughter, Brenda, won the ladies and junior club championships in 1958, one of the three years Barringer won the Northern Ontario Professional Golfers Association title between 1953 and 1960. A North Bay Sports Hall of Fame member, he helped develop the game by not only founding the NOPGA but also providing free clinics for young players.
The North Bay junior championship trophy is given as a memorial in Barringer's name. All three were competitive and spent family vacations at tournaments.
Brenda Cooper said there wasn't much choice in her family.
"I had to be a golfer or I would never have seen my father," she said, not quite joking. "It was pretty well our life, in the summer we golfed our hearts out. I was fortunate enough to be good at it and it's still my passion."
In normal years, March is spent in Myrtle Beach enjoying the courses there.
She still golfs but mostly at Highview in Powassan, where she taught before retirement, although she gets up to North Bay GCC for a guest visit once a month.
Bill Church, 76, was a caddie and assistant to the pro as a boy and first became a member when the second nine was being built in 1963. His grandfather George Lee was among the original members.
He worked there when Barringer, who brought the first electric carts for private use in 1961, was in charge and recalls good times.
"It was very nice to be able to golf those summers, it was idyllic, the lazy, hazy, crazy days of summer," Church said. "It was a great place to work and play golf, wonderful people."
There were about 40 junior boys and girls at the time and Church said a membership cost $21.50 back in the 1950s. An intermediate paid $55 in the 60s while prices went up as they added another nine holes and then a new club house.
Lockhart is part of a regular group of players meeting Wednesday afternoons for more than 30 years with original members of the crew going back further and including Jim Sherry, Barry Hallett, Bob Sampson and the late Gary Corbett.
"We've always have a fun time and at the end of the round we have supper together," he said, with the results of each person's round used as a basis to form teams after the fact.
The best three are picked as captains with the three highest scores split between them, while the rest are divided up on teams by picking from a hat.
"It makes it a fun thing and not highly competitive at all," he said.
The centennial painting, he said, is symbolic of the club's history and future. The course's signature 18th hole vista has both the old and new club house in view with two junior golfers coming in for the final green as a nod to the future. In the background, you can see the No. 8 pond, "the prettiest part of the course in brilliant fall colours a lot of people photograph."
It's meant to bring back memories, he said, with the proceeds of print sales (limited to 100 of each of both small prints 16 x 20 for $270 and large 24 x 30-inch $370) going to junior golf.
Jeff Mancini, the current NBGCC pro, is in his 20th year at the club and is only one of 10 different people in that position over a century, which says a lot about the organization.
"It's a great atmosphere here, I'm excited to come to work," he said, pointing to the nice mix of fun and competitive events as one reason for its popularity, as well constant but thoughtful improvement of the course itself.
As part of the 100th anniversary celebration for the North Bay Golf and Country Club, a timeline of highlights was pulled together.
The NBGCC was established in 1921 when Senator Gordon and George Lee bought the property from George Harrison.
There were 226 shares at $100 a piece bought by 129 residents of North Bay.
Electricity was provided from the Terrace Lawn Cemetery in 1922 and construction of the clubhouse was complete the next year with Senator Gordon taking the official first tee shot for the occasion.
The original nine-hole course was designed by Stanley Thompson, renown for his work coast to coast.
Howard Teskey won the first of three Northern Ontario Amateur championships in 1926 while Beth (Gordon) Butler won the first of three Northern Ontario Ladies Golf Association titles.
Teskey won the first NOA hosted at the course in 1928 while R.G. Lee won the Canadian Intercollegiate title in 1931.
A record of 27 strokes over the original nine holes was set in 1935 by Art Norman.
Bob Barringer, one of only 10 golf pros to work at the course over the first 100 years, won the 1939 NOA championship.
Golf championships took a back seat to the Second World War with numerous members, such as Doug McDonald and Lou Valenti, fighting overseas. Sgt. 'Big' Lou Valenti of the Algonquin Regiment landed in Normandy July 25, 1944.
In 1946, Bill Morland won the Ontario Juvenile Championship and then won his first NOA title three years later.
The Morland clan teamed up in 1955 – Bill Sr., Bill Jr. and Dave – winning the Canadian Father and Son championship.
Dave Morland won the Ontario Amateur title in 1960 with Billy taking the honours in 1963 and 1966.
In 1999, Edna Chesseman, Gwen Siewertsen and Jean Webster represented North Bay on a national stage when they won the club team's championship.
The old clubhouse was torn down in 1994 and new one built in 1995. Until 1999, when the underground water system was installed, members and staff would schedule evening shifts to turn pumps on and off.
Ricky Allen won the Ontario Juvenile Championship in 2002 and Mark Lucenti notched the course record by carding a 61.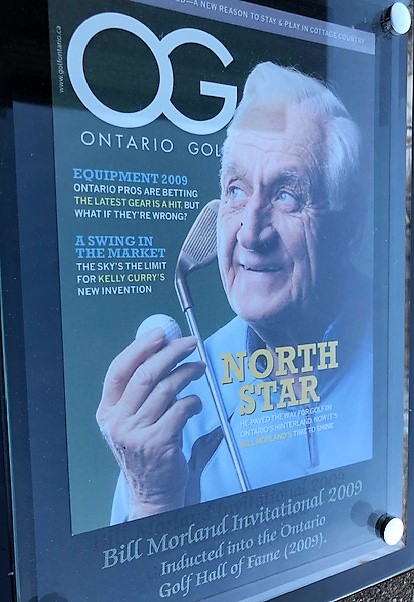 In 2009, Bill Morland was inducted in the Ontario Golf Association Hall of Fame.
Lucy Fraser won the over-70 Ontario Senior championship in 2011.
In 2020, Rob Gribbons won his 8th NBGCC championship.

Dave Dale
Writer, photographer and proud father. My mom's family is from the Soo with its Algoma Highlands, dad hailed from Cobden in the Ottawa Valley and I spent my teen years in Capreol. Summers were at the beach on the Vermillion River and winters at 'The Rink.' Born in East York but Toronto never was my thing. Ever since a kid looking out the window on long trips, I imagined living on the highway in a little house with a big yard and trees growing all around me.