Erin Chassie still loves playing on a team but North Bay's first female AAA hockey goalie ended up saving hearts as a dream career instead.
Chassie, who played for Butch Turcotte's Hal's Marine Minor Bantams in 1988-89, has been an operating room nurse at the University of Ottawa Heart Institute for two decades.
"We do a lot of stuff here that no other centre in North America does," Chassie said during a Zoom interview. "We have the Da Vinci robot, so we do a lot of robotics. I absolutely love that."
The also do a procedure called Pulmonary thrombolendarterectomy (PTE) where they cool the body down and put it on a heart and lung bypass for a procedure.
'Just blows my mind'
"It's unbelievable, just blows my mind sometimes," she said of the medical advances, describing how they then slowly return the person to life-sustaining temperature over 12 to16 hours.
"The reason I chose working in the OR is because of that team atmosphere," she said, where everyone has a technical role, similar to her lifetime of sports experience.
"There's maybe up to 10 people at a time in the OR, and each person has one job to do and once all that comes together, it's great for the patients…it's a win," Chassie said with just as much enthusiasm she put into life whether it was nursing or athletics.
Her switch from ringette to hockey at a young age was about seeking more excitement and challenges. And she didn't settle for just one position or one sport, her competitive streak stretching into softball and basketball too.
She left the net soon after breaking more barriers as the first female to crack the boys high school team ranks – twice. First with the St. Joseph-Scollard Hall Bears and after graduating Gr. 12, she did it again with the Widdifield Wildcats.
In another first, Chassie tended the net for the national U18 team the first year women's hockey was part of the Canada Winter Games in 1991, playing with the likes of Cassie Campbell and Cheryl Pounder.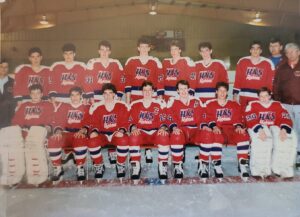 In 1994, Chassie turned her focus toward a nursing career and put the pads away. But she kept skating as a forward and eventually got the opportunity to play professional women's hockey with the Ottawa Raiders 2001 to 2006. Chassie said it was only possible because the U of O Heart Institute let her work around the hockey team schedule, giving her a chance to enjoy the best of both worlds.
And to put a cherry on top, during a swing through the west one season, she'll took the opportunity to body check Hall of Famer Hailey Wickenheiser.
"It was like hitting a brick wall," she said.
Chassie turned her focus toward her nursing career but eventually got the opportunity to play professional women's hockey in Ottawa 2001 to 2006. She was thankful when the U of O Heart Institute let her work around the hockey team schedule at the start, allowing her to enjoy the best of both worlds.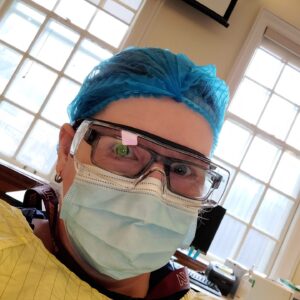 "My absolute most favorite surgery is a transplant. It's just fun. I don't know," Chassie said, describing it with zeal and too much detail. "We just snip everything … and it's still doing, you know, like it's still kind of beating. And then you put a new heart in.
"We have a special clamp that stops the heart. So when we take that off the heart starts right away … it's just an unbelievable feeling. It's really cool," she said.
"But it's kind of funny because people think cardiac surgery is so serious and nobody talks. I log into all the computers and I put music on so they can listen," she said, describing how they know when it's OK and when it's not.
"When we stop the heart, the music comes off because it's like, 'Go!' time."
Chassie misses her folks in North Bay and wishes she could have visited her home community more, but there was concern about travel even when there wasn't 'stay at home' orders.
Being back at work this spring has raised her spirits, even when it means pulling COVID-19 testing duty in April as most of the surgeries are put on ice for pandemic priorities.
She's had her own health challenges lately and was off work for the past two year's dealing with blood clots in her lungs. While they're not sure what's causing the issues, she said scans cleared her for return and she very happy about it. The Heart Institute, meanwhile, has become an even more impressive place to work.
"They just built us a brand new building and it is absolutely stunning. We have all brand new operating rooms, all brand new labs where they do the angiograms. Everything is brand spanking new, even the escalators in there," Chassie said.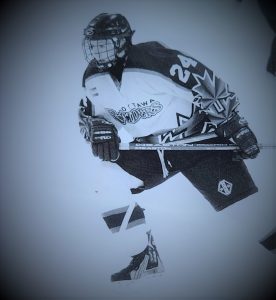 Her hockey days ended a few years ago after having her left shoulder joint replaced. It frustrates Chassie not to be able to skate, a precaution against bumps and falls, to the point she can't even go near an arena.
"I can't go to rink and not be a part of a game or anything like that," Chassie said.
She thinks it's great that young girls have so many opportunities to play at competitive levels these days and it's amazing to see North Bay's girl's hockey get so strong. From the success of the Ice Boltz to the Nipissing Lakers university team, players have so many more opportunities than back in her day.
Getting a scholarship to play NCAA hockey is more common as well and women's professional leagues are now teaming up with NHL teams, which is encouraging, Chassie said.
Despite playing on the Ottawa Raiders professional women's hockey team, she didn't get paid to do it although all her expenses were covered and there were perks.
Being one of the sports gender ground-breakers didn't seem like a big deal.
"The boys were totally fine with me, I had no qualms about playing with boys at all," she said. "I didn't even think about it back then when I was playing, you know.
"Mum and dad were on board with it, so I just took it and ran with it not knowing the impact that it would have now. I got to play one year of minor bantam AAA and that was probably my best year ever," she said. Teammates included future NHLer Craig Rivet and Mike Burman, who finished his pro career in Europe.
Turcotte lived up to his reputation as a tough coach – she was one of his goalies just four years after his Pinehill Coffee Shop midgets won the Air Canada Cup for national gold at Memorial Gardens in 1984 – but she said he got everything there was out of the players.
"So when we were good, we won like every tournament."
Turcotte said she was a very tough goalie with a big heart who didn't take getting scored on lightly.
While she didn't make the cut the next season, the post-secondary scouts took notice and she was recruited with McGill University and Boston College showing interest.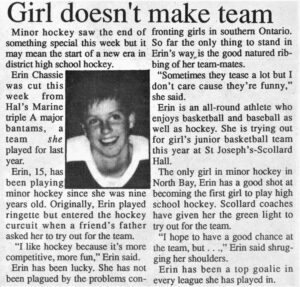 Her parents, however, said they'd pay for her education if she attended Canadore College and there wasn't financial support being offered in the form of scholarships back then.
Chassie and her partner, Scott, have two cats named Gordon and Edward.
Her favourite player is Pittsburgh captain Sidney Crosby, they have five of his jersey's in the house, including an autographed one from his days with Rimouski in the Quebec Major Junior Hockey League.
"That is our golden ticket. It's pretty cool to have that," she said, adding her favourite goalie was Grant Fuhr of the Edmonton Oilers (he won the Vezina Trophy the year before she made Turcotte's AAA minor bantams).
"I just like the way he played and how competitive he was and how they were winning, as well as his style and his demeanor off the ice."
Chassie posts to her Facebook page regularly, often cheering on women's sports stories as well as the front-line health industry players.
EDITORIAL NOTE: Back in the Bay Magazine will publish online a select few of the features and columns published in the print product to help showcase the stories our subscribers and advertisers support. To become a subscriber, fill out the form at www.backinthebay.ca and we'll set you up to receive the next editions and/or back issues like the inaugural magazine this feature was in.

Dave Dale
Writer, photographer and proud father. My mom's family is from the Soo with its Algoma Highlands, dad hailed from Cobden in the Ottawa Valley and I spent my teen years in Capreol. Summers were at the beach on the Vermillion River and winters at 'The Rink.' Born in East York but Toronto never was my thing. Ever since a kid looking out the window on long trips, I imagined living on the highway in a little house with a big yard and trees growing all around me.