Joe Cundari's work ethic and creative spirit served him well as a North Bay home renovator and builder for 42 years.  One of his childhood passions, however, was set aside while focusing on his contracting business and family priorities.
"I wanted to be an artist all my life but you know, being in the construction business and trying to raise a family, I didn't have any time to do that," Cundari, 73, said, describing how you do what's important to you at different times in your life.
Also check out the video at the bottom of this page of Joe Cundari describing his art and passion for painting.
"Yeah, well, it's cool. A lot of people, they just don't have time to pursue the things that are their personal passion," Cundari said. "You know, like we go through these different times in our lives when some things are more important than others. And we have to sort this out as we go … I was lucky I got a chance to (have a business like carpentry) on my artistic side."
But the desire to be an artist never left him.
"When I retired, I decided I was going to start doing everything on my bucket list and artist was right up there at the top.  So, when I turned 65 and had a retirement party, my wife and a bunch of friends chipped in and bought me some painting brushes and I just got at it and it's become a big part of my life now."
Cundari, who starting drawing at an early age and through high school, taught himself and found a higher level of skill by watching countless YouTube videos and a lot of trial and error.
It takes a while to find your own style, he said, noting everybody has to go through that process.
He brings his camera while cycling around town and takes photos of what catches his eye for reference when he gets home. His old business office downstairs is set up for painting so he can go in, work a while, and then come back to it without having to put things away.
Watercolours turned out to be his preferred medium and there's a lot of layers required to get the desired tones, he said.
"I sort of started painting local things around town, and my goodness, lots of people started liking the idea that I was doing local art," he said, noting he's done about 30 pieces in the last four or five years, mostly on the waterfront and downtown.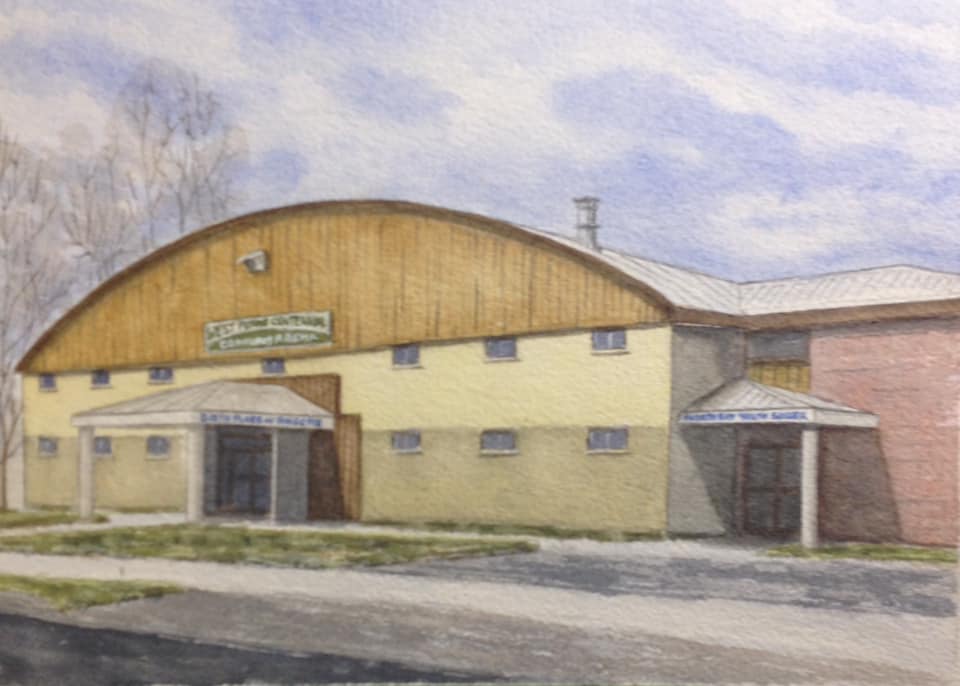 "As I progressed, I got a little bit better at it," he said, noting his posts on social media drummed up interest in his efforts.
"I get a lot of compliments about it and people enjoy it."
It wasn't long before people asked him if he doing commissioned work with requests that he make paintings of specific buildings, such as the West Ferris arena and Scollard Hall entrance. He said sometimes a small group of people will order multiple prints from the original.
Residents and visitors to the Waters Edge long-term care home off Lakeshore, formerly Leisure World, will soon see his work hanging on the freshly painted walls.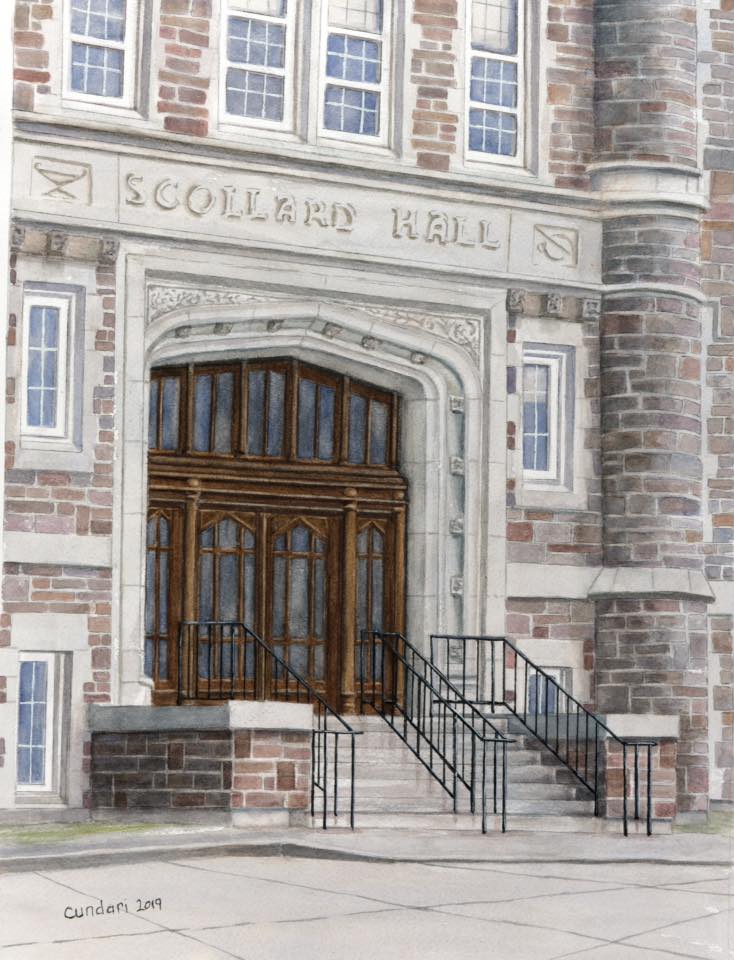 His big thing these days, though, is pet portraits.
"Most of my paintings are revolving around people's pets. I've done probably, I'm going to say, somewhere between 30 and 40, pet portraits this year.," Cundari said.
"Honestly, the phone never stops ringing with these things. It's unbelievable how much importance dogs and cats are in people's lives.
"And a lot of animals I do are alive and well but probably about half of them have been put down and people just really want to remember their pets."
Getting the animals personality to shine through is the challenge.
"It's a little more complicated than doing buildings and trees. Each one is so unique. You know, one person doesn't look like another person and all dogs and cats are the same.
"And, you know, what a lot of people have really enjoyed about looking at my animal portraits is they can see the soul of the animal through it, through the eyes and I've been pretty fortunate to be able to pull that off."
See Joe Cundari's artwork on his Facebook Page and inquire about what he charges for the various sizes of paintings and prints of original work.
If you'd like to support community journalism such as this, e-transfer a donation to davedale@backinthebay.ca

Dave Dale
Writer, photographer and proud father. My mom's family is from the Soo with its Algoma Highlands, dad hailed from Cobden in the Ottawa Valley and I spent my teen years in Capreol. Summers were at the beach on the Vermillion River and winters at 'The Rink.' Born in East York but Toronto never was my thing. Ever since a kid looking out the window on long trips, I imagined living on the highway in a little house with a big yard and trees growing all around me.