There's probably a way to automate the writing of a weekly column.
We already have artificial intelligence programs to cover news events. Take an issue, insert trending posts via an algorithm of sources and 'presto' you've got a reaction piece.
Same basic approach from the early days of journalism, just an electronic version of crowd-sourcing – minus the messy human flaws of intuition and real-time learning.
I'm not saying AI "reporters' couldn't improve on what some of the mouth-breathing bots in journalistic positions produce. There's already a bank of main stream offerings dominated by cut-and-paste Twitter, Instagram and Facebook takes.
Cookie-cutter news reports are 'dime-a-dozen'
It wouldn't be hard to come up with a recipe for forming opinions either. Life already programs an outlook and you formulate thoughts based on the current data stream.
It could be as simple as taking a trending topic and posting a general question or invite for input through social media. Comments would then be aggregated and the column writes itself using phrases from a data base.
Already seems like many of the news pundits are more avatar than real.
Until then, I'll keep spouting whatever cooks upstairs, trying to cover a variety of relevant topics.
Below is an example of me using social media to "crowd source" about a topic before writing a column. I have a Facebook newsfeed anyone can see, making it a public bulletin board of sorts. I'm including the comments here for those who don't use that platform. Facebook has earned a bad reputation for engineering division and sucking up your time, but it also provides a great forum to share ideas. Usually everybody plays nice on my newsfeed. I delete those who can't be civil or respectful.
Of course, the column won't be based just on everybody's comments, although I might mention a couple if appropriate. My final submission will be formed by research, experience and conversations with people involved with or understand a topic of interest.
My Monday Column at BayToday.ca is usually posted around 11 a.m.
Facebook post Saturday, July 24, 2021 at 5:34 p.m.:
Cassellholme, long-term care in general, homelessness and basic living insecurely will be among the topics weaved into my Monday column at BayToday.ca. The latest decisions by the board and North Bay council actually set up a new chess game. Got any thoughts?
I don't yet have a grasp on all the multi level machinations, other than the heavy financial anchor ready to sink whatever ship it is tethered to. My gut tells me something stinks about the construction contract procurement, and the shade is casts on transparency and the fiduciary duty to the stakeholders, including the taxpayers.
I tend to agree. First, $120M+ is ridiculously high. Everyone keeps talking about the arena as a comparison – so let's compare. $40m is the estimate. Twin pad arena with community center. Are we to believe that casselholme is more that 3x that?! Don't think so. As for the funding, anyone like yourself who has been around government know that you just can't take reserve funds from one area (ie arena) and "move" them to another. We definitely need a new facility, but we have to do better than this. There are new build options – look at the city owned lands next to the fire hall in Ferris or on lands surrounding the hospital.
it's déjà vu: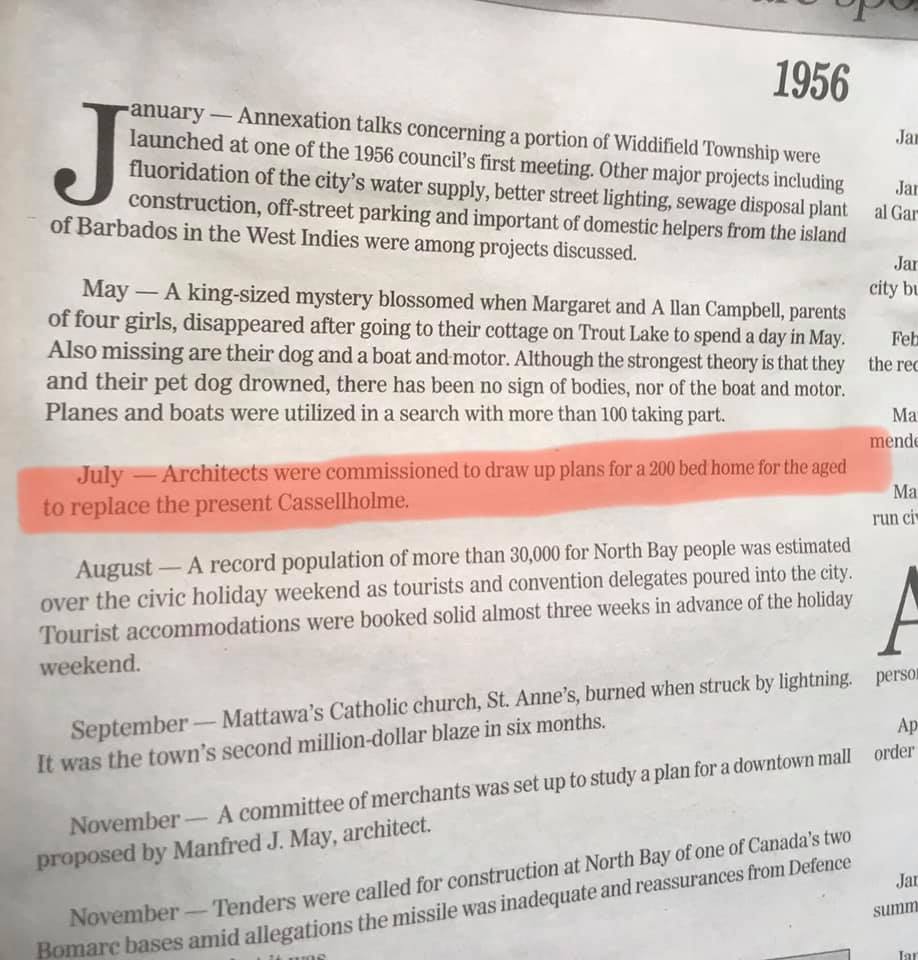 "the more things change, the more they stay the same"
Reading the dejavu comment: Why did the city need to import domestic help from Barbados?
As for living insecurely: there is no reason for this except greed. Minimum wage needs to be enough to provide the basic necessities of life: shelter, food, clothing all at the same time. Not try decide what it will be this month.
Look forward to reading it
It sounds like the Board has locked itself into a contract that would cost plenty to break. A lawsuit would be likely ensue. Bad situation all around.
Corruption on the private LTCs.
Was the feasibility of a refurbished Widdifield Secondary School ever studied as an option?
great topic ,,as many of us seniors on fixed and low incomes will be joining them ,,,with present cost of living and inflation
On basic living insecurity the Ford/Fedeli actually the finance officer at the time with his efficiency thought minimum wage $15.00 a hour was Scrap.
Today with inflation it could be $16.00 an hour if it was kept and that might help the homeless
As for the homeless go back to a article in nugget where Fedeli ask DSSAB to cut there budget by 2 cent for every dollar for efficiency and Marc King as chairman said it was possible to do.
(Comments as of 6 p.m., July 25, 2021).
……………………………………………………
Below are my other columns at BayToday.ca:
Sept. 13, 2021
Welcome to the 'State of Flux'
Let's take it a step further and invest that tax revenue directly into low-income and public housing, filling a void that's causing part of the problem both socially and economically.
Sept. 7, 2021
Infected with that nasty civic duty bug
Not to put too fine a point on it, I believe I can add a measure of depth to the council chamber lineup.
Aug. 30, 2021
City has vast reserves of untapped 'cynicism'
Perhaps it's time to change the rules for being elected to municipal office? Maybe a councillor should have to fulfil at least one term before applying for a job at the city?
Aug. 23, 2021
Strategic voting offers false mandates
Even the spectrums on the left and right are at odds with each other, which results in more losers than winners every time we go to the polls.
Aug. 16, 2021
Politicians weave a tangled web
The only benefit of having the election now, as far as I'm concerned, is that it saves having to do it next year because I'm certain the Bloc, NDP and Tories would have rejected the next budget and not waited for 2023 either. A federal, provincial and municipal budget all in 2022 would have killed me in a worse way than coronavirus.
Aug. 9
Change is hard, inconvenient and uncomfortable but necessary
Hopefully we'll find ourselves in a better place where invasive and destructive insects are not named after a group of people and there is no need for parades to demonstrate against oppression in the fight for inclusiveness.
Aug. 3, 2021
Cassellholme conundrum deserves closer look
It's high time for the Cassellholme board and executives to break out the dog and pony show that should have performed on the municipal council circuit months ago – pandemic or not.
July 26, 2021
Cassellholme future needs provincial intervention
At this point, only the Ministry of Long-Term Care can spike the project. They'll be looking long and hard at the tender process and shot-gun wedding approach to the financing.
Jul 19, 2021
Keystone Cops blink first at Cassellholme's O.K. Corral showdown
Is there a better (less expensive and complicated) site to build from the ground up? Will a regular tender process achieve a better estimate? Does the Cassellholme governance model need to be scrapped? Can an election-year improve the provincial funding terms?
Jul 12, 2021
Opinion: Dave Dale, Maroosis hammers home a good point about so-called 'plan'
Without provincial and federal funding to reduce the wait lines for mental health and addiction treatment services, people will continue to fall through the safety net gaps.
Jul 5, 2021
Silly season begins pandemic-style
'I don't think they'll be able to rely on the right-wing tail wind from down south. There's not much 'Trump bump' left in the tank, is there?'
Jun 28, 2021
It's astounding, really. We seem so full of ourselves in the archived documents and so congratulatory in the history books. We sure talked a good game and I can see how it tricked all involved into thinking there was integrity at play.
Jun 21, 2021
Opinion: Dave Dale, Let's not return to 'normal'
The $122-million redevelopment and expansion of Cassellholme is a glaring example of politicians playing hot potato with health care issues
Jun 14, 2021
Lessons to learn for the next pandemic
The wind carried amplified talk about a looming new world order, threatened freedoms, vaccines something, something and mask-wearing oppression to the skies above.
Jun 10, 2021 – Announcement
Veteran journalist Dave Dale dusting off his columnist pen to write weekly for BayToday
He has a reputation for being a hard-nosed political and social analyst who is irreverent to powers that be, while also sharing a compassionate and philosophical side
May 2, 2021
REPORTERS SHOP TALK: Newshound Dave Dale
We begin our series featuring Dave Dale and some of his favourite anecdotes on a career spent covering municipal politics

Dave Dale
Writer, photographer and proud father. My mom's family is from the Soo with its Algoma Highlands, dad hailed from Cobden in the Ottawa Valley and I spent my teen years in Capreol. Summers were at the beach on the Vermillion River and winters at 'The Rink.' Born in East York but Toronto never was my thing. Ever since a kid looking out the window on long trips, I imagined living on the highway in a little house with a big yard and trees growing all around me.