A familiar air of positive energy greeted Tony DeMarco as he rolled into the North Bay Regional Health Centre's cafeteria Aug. 16, 2019.
Cheers and applause filled the room as his daughter, Lisa, brought his wheelchair to rest and a wave of loving respect washed over them.
Tony lit up the room when he smiled, the same joy of life that greeted customers as family at DeMarco's Confectionery for more than eight decades before closing in 2014.
Lisa, who worked with her father for seven days a week for most of her adult life, then wheeled the family patriarch to a buffet of homemade Italian deserts.
That familiar feeling, of being at home and comfortable despite the hospital setting, was the DeMarco's Confectionery "community" coming together to celebrate his 99th birthday.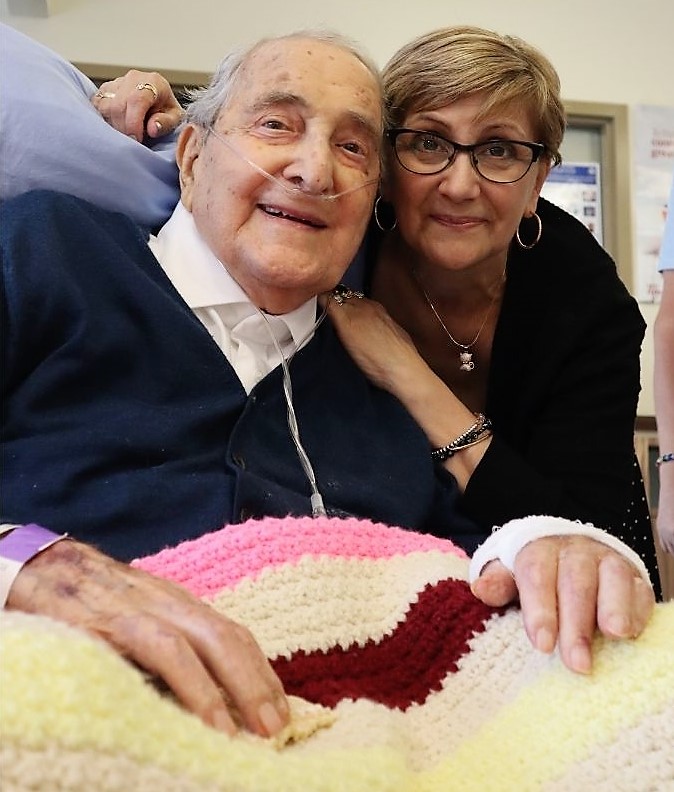 Before the candles, singing and cake, Tony nibbled on a freshly made pastry while a long line formed to wish him well. His best days obviously behind him, recent loss of mobility pushing into palliative care, Tony brightened up most with the children at his side. There's a video at the bottom of this story that captures some of the event, including clips of Tony raising his hands to celebrate after the crowd counted off to 99. And if you watch closely, even after telling Lisa he was growing tired, Tony summoned the energy for a "wow" and even bigger smile when a great granddaughter showed him the card she made.
It's a beautiful memory to cherish. Tony passed away 10 days after his birthday party, Aug. 26. 
See Video Below
Lisa and the DeMarco's family appreciated the support.
"It's just so wonderful, the store has been closed five years but nobody's forgotten Dad and that's … so heart-warming," Lisa said in an interview at the party, adding many of the customers and former staff continue to gather like old times. "All these people here are all people from the store … and we're all still close … we all meet up at Christmas for a big Christmas dinner and we bring Dad, it's just lovely. It's a community and the community from the store has continued on…"
Her grandparents, Carmine and Antonia, had opened the deli and grocery store in 1928 and Tony began helping out by making deliveries on his bicycle when just eight years old. Her mom Joan had passed away earlier the same year the store was closed.
Generations of North Bay residents grew up with DeMarco's as their favourite spot to meet in town, the Algonquin Avenue location perfect for many. It sits straight across from the Pro-Cathedral so there were a lot of people dropping in before and after church services on the weekend. And very popular businesses grew around them, including Greco's Pizza and Pasta that celebrated its 50th anniversary the  month prior.
The confectionery was known for having a variety of imported Italian goods as well as fresh fruit and vegetables. They also offered an eclectic deli menu of home-made soups, salads and sandwiches (meatloaf was a special sandwich feature, as was peanut butter and banana). They also sold thousands of gift baskets containing their best items and delivered to hospital patients like Tony.
Carmen, the only son with three sisters, held some hope there might be another birthday celebration.
'Determined to make it to 99'
"My dad was determined to make it to 99, he's been talking about it for some time and here we are, maybe we'll start talking about 100 soon. We have a wonderful crowd here, most of my family and lots of relatives and friends. Dad knew hundreds of people because of the store and of course, most of his contemporaries are gone now but he still has a lot of people that he knows and want to spend time with him," he said.
"It's been a wonderful evening and it's just great to have him around."
Lisa, who was recently treated for cancer, almost choked up a bit explaining why they needed to place Tony in palliative care.
"Dad has been with me and my husband for five years," Lisa said, adding he was able to work until he was 94 years old and it's been "wonderful" to have that time together. But she said recent developments made it impossible to care for him properly.
"I had promised him that I would keep him at home to the end but it's gotten to the point now where it became unsafe for him and for us. It's been getting very difficult to care for him … he's lost his mobility in his legs and he's fallen and we can't move him."
She said the hospital and specifically their doctor, Dr. Inez Fatima Jinnah have made the decision and transition as painless as possible as her father prepared for his passing.
"If you think all angels are in Heaven, there's some on Earth and Dr. Jinnah is one of them. She arranged and helped with all of this, got him a wonderful room and have asked that any wishes we had for him, they'll do their best to fulfill, so what more can you ask for," she said, adding that it all happened very quickly and the party was arranged over just a few days, which meant invitations couldn't go out as they would have hoped.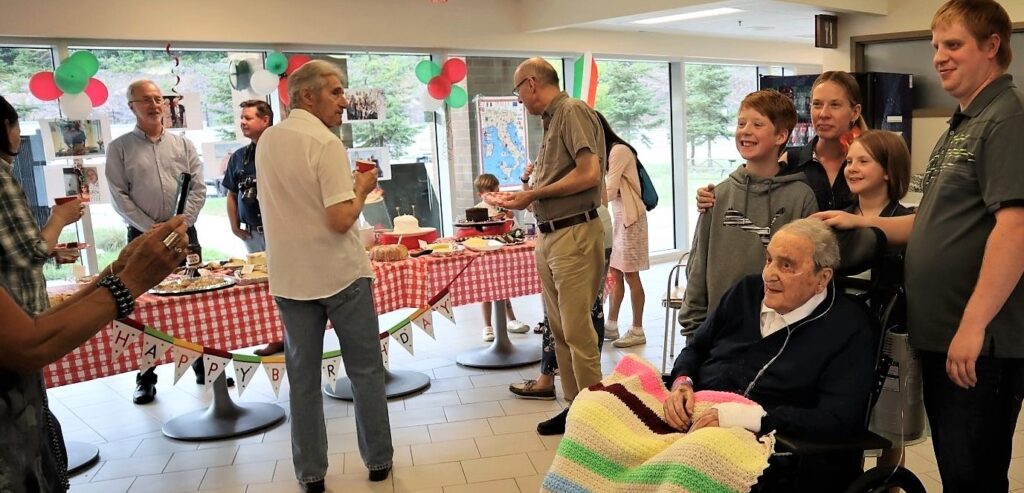 (This story was first published September 2019 as the primary feature for the inaugural A Bit of the Bay Magazine, which ceased publishing after 11 editions December 2020. I was the associate publisher and managing editor. Lisa gave me permission to republish the story this year on the second anniversary of Tony's passing.)

Dave Dale
Writer, photographer and proud father. My mom's family is from the Soo with its Algoma Highlands, dad hailed from Cobden in the Ottawa Valley and I spent my teen years in Capreol. Summers were at the beach on the Vermillion River and winters at 'The Rink.' Born in East York but Toronto never was my thing. Ever since a kid looking out the window on long trips, I imagined living on the highway in a little house with a big yard and trees growing all around me.