There's a bigger story surrounding the Nipissing Warriors hockey legacy and its role in the community's progression ever since.
The 800-word feature in the Back in the Bay's Winter Edition barely scratches the surface, although it's nice to see the 1972 before and 2003 after team pics published in print.
Nipissing First Nation will celebrate next year the 50th anniversary of their Warriors hockey team winning its first 'All-Ontario Indian Hockey Tournament' championship in 1972.
Special focus will be put on the historic men's team as the community hosts the Little NHL tournament taking place in Mississauga, Ont. in March.
The Nipissing Warriors legacy, however, is about more than hockey glory with a decade of play in the Sturgeon Falls Industrial League 1965 to 1975 credited for shaping the community's future.
Les Couchi, one of the championship Warriors, provided photos from his collection for the piece and told me about the time and what it meant. There's such a great story, from the formation of the team, it's trials and tribulations with fulsome community-wide support. I'll need more time to put it together.
I also had a very informative interview with Nipissing Chief Scott McLeod Shabogesic, who grew up watching the Warriors and saw how the community drew from its example and winning spirit.
What didn't fit in the magazine piece was how the community stood up together against the provincial offensive over fishing and hunting issues in the 1980s. We touched on several key Supreme Court decisions in the 1990s, a successful land claim and key self governance steps. And there's recent court victories worth noting with the province still dragging it out by appeal. When you weave it all together, there's a tale to be told.
It's going to take some more time.
Sign up for a notification and you'll know when the second chapter is ready for posting as a new feature.
Quotes in the magazine feature:
"It was at a time when we didn't have a lot of things going for us and we didn't have a lot of wins in any other aspect of life," explains Nipissing Chief Scott McLeod Shabogesic, who remembers attending the games in Sturgeon as a boy. "It helped us think we could be good at something and there was a lot of pride in that."
"We had a lot of talent, so it was a perfect storm. You had guys who were there from the 60s and then all of a sudden we had three or four guys who were junior players who we're probably motivated by the Warriors team growing up," Warrior winger Les Couchi said.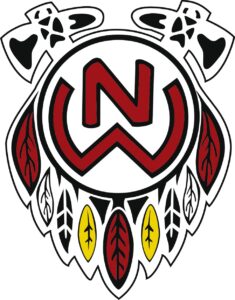 Email editor@backinthebay.ca to receive copies of the magazines or add comments for the next Nipissing Warriors story. Download PDF copies HERE.

Dave Dale
Writer, photographer and proud father. My mom's family is from the Soo with its Algoma Highlands, dad hailed from Cobden in the Ottawa Valley and I spent my teen years in Capreol. Summers were at the beach on the Vermillion River and winters at 'The Rink.' Born in East York but Toronto never was my thing. Ever since a kid looking out the window on long trips, I imagined living on the highway in a little house with a big yard and trees growing all around me.