The Spring 2022 edition of Back in the Bay Magazine rolled off the Beatty Printing press on Monday.
It's one of our best packed with local stories and photos, plus the most local advertisers supporting the fifth issue since launching last year. Next up is the summer July 1, fall September 15 and winter in the first week of December.
Circulation to retail outlets, advertisers and subscribers has begun with 3,500 samples delivered to a random spread of
North Bay neighbourhoods through Canada Post. This gives advertisers bang for their buck as well as pick up subscription support. This year, we're offering 4 editions mailed or delivered
for $35 (HST included)
. It's $5 with HST in stores but the postage to mail is $3.62 more, plus envelopes and address labels.
As of Wednesday, Darkhorse Comics on Cassells, Maroosis Art Centre at Algonquin and Main, North Bay Museum off Oak Street and East End Variety have copies for sale in North Bay. Gerry's Auto in Corbeil on MacPherson Drive also has the newest edition, with the Callander Heritage Museum will have them by Friday or sooner.
Copies are also available at 176 Lakeshore Drive, with parking off Gertrude Street. That's the old Tweedsmuir school and the Small Town Times office is in Suite 14 (with the Nipissing Region Curatorial Cooperative near the back doors).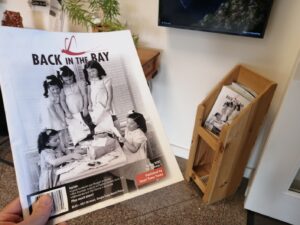 If nobody is there, take a copy from the wooden magazine rack beside the north entrance, in the corner at the doorway to the remodeled gymnasium offices. Just so you know, there's always interesting art along the hallways if you want a tour (with very clean washroom and cafeteria facilities.) Please leave the $5 per copy in an envelope in Suite 3 or in the Suite 14 mail slot on the door.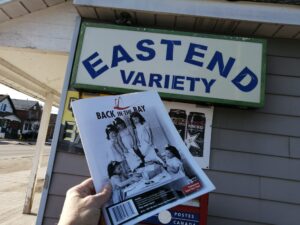 Dave Dale
Writer, photographer and proud father. My mom's family is from the Soo with its Algoma Highlands, dad hailed from Cobden in the Ottawa Valley and I spent my teen years in Capreol. Summers were at the beach on the Vermillion River and winters at 'The Rink.' Born in East York but Toronto never was my thing. Ever since a kid looking out the window on long trips, I imagined living on the highway in a little house with a big yard and trees growing all around me.