The 34th anniversary of the 'Conspiracy of 3' reading series was celebrated with a rare outdoor gathering overlooking a silky smooth bay of Lake Nipissing June 14. North Bay author Janet Calcaterra shared passages of her newly published first novel, The Burden of Memories, and prolific Toronto writer Carol Malyon read from her collection of short stories entitled: Underneath the Water with the Fish.
As is the monthly tradition since Gil McElroy initiated the group in 1988, the third session was an 'open mic' buffet of several writers featuring excerpts of new and old works, and poetry, complete with the bonus of a soulful song and 16-voice happy birthday for a first-time visitor.
Denis Stokes, teacher and poet, hosted with experienced and philosophical oration, underlining the importance of having such quality people and writers grow as close friends and offer thoughtful and skilled works in such complex times.
A video of Janet Calcaterra reading from her novel is at the bottom of this story.
See the Summer Edition of Back in the Bay Magazine for the rest of the story due out July 8. Subscribe by sending your address to magazine@backinthebay.ca with a $10 charge per delivered quarterly magazine or drop by a retailer to pay $5 per copy: Darkhorse Comics, Maroosis Art Centre, North Bay Museum, Callander Museum, East End Variety, Hospital Gift Shop, 176 Lakeshore Drive, and Gerry's Auto in Corbeil.
A historical piece on the C of 3 by Laurie Kruk, of Nipissing University is posted at the bottom of this article.
The Aug. 9 reading features Roger Nash (author of Climbing a Question, Aeolus House, 2019) and Ric deMeulles (author of Quinn, Charlie Cormorant Books, 2018), and an open mic on the theme of "I thought I was dying … but it was just indigestion." The venue is returning to the Gateway to the Arts, 151A Main Street West, North Bay, Ontario. The event is open to the public, and all readers, listeners and gastroenterologists are welcome. For more information, please email Denis Stokes at conspiracyof3@gmail.com
Here's a link to the late Ken Stange's description of C of 3:
A profile on Gil McElroy is HERE: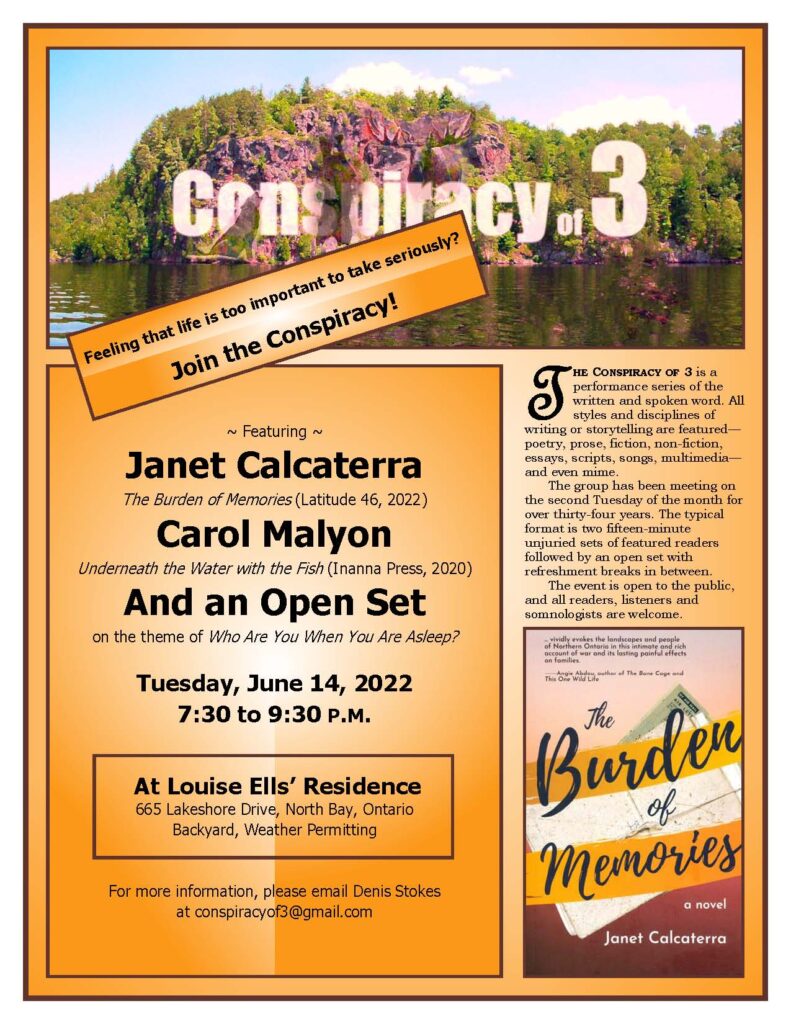 Buy The Burden of Memories in North Bay at Allison the Bookman:
Other retailers:
https://www.goodreads.com/book/show/59097149-the-burden-of-memories
The Conspiracy of 3: A History
By Laurie Kruk
The Conspiracy of 3, North Bay's local reading series by and for Canadian writers, was founded in 1988 by poet Gil McElroy. He was the Host and Organizer until he left town in 1990. A reading series, however, had already been tested out ten years earlier by Ken Stange, in partnership with the independent White Water Gallery. "Every second Tuesday of the month the gallery, with the help of Nipissing University and the Canada Council, will play host to area and Ontario poets in a program that promises to continue on an indefinite basis. The first offering in the reading series was presented by Ken Stange, founder of Nebula magazine, and included poets who were for the most part connected with Nebula in some manner. Nebula is a serious, contemporary literary periodical, predominately concerned with poetry, fiction, and to a lesser degree, criticism." [1]
The Conspiracy of 3 began meeting at the Lion's Heart Pub (now defunct) in May 1988, and has travelled around town to various pubs and restaurants who have hosted it. "Several poets, loosely organized by Gil McElroy, decided to do readings of their own works at the Lion's Heart Pub. Originally billed as "The Gang of Four," six poets presented samples of their work." [2][3] Mr. McElroy, a local writer, developed the series 'to give writers the chance to read their work and meet their peers. 'Nowhere in the area is there a place where writers can read before their peers,' he said….. 'I'd like to think that in some small way, I am making a difference in the local literary scene," said Mr. McElroy." [4] The name, "The Conspiracy of 3," refers to its "underground" character and established format of three twenty-minute "sets" per evening, including the "open set" where new writers are encouraged to try out new work and anyone may contribute a brief reading or performance. More information about the origins of the Conspiracy of 3 can be found in Interview with Gil McElroy: Conspiracy & Community by Doyali Islam in the Twelfth Issue: Winter 2018 (http://www.ottawater.com/seventeenseconds/pdfs/twel fthissue.pdf) edition of 17 seconds, ( : a journal of poetry and poetics ). [5]
The Conspiracy of 3 now meets at the White Water Gallery, in its present location at 122 Main Street East, North Bay. The Conspiracy of 3 continues to meet monthly in North Bay, Ontario on every second Tuesday; there is no cost or membership fee and anyone can participate. In 2013, Sudbury's Kim Fahner (past Poet Laureate of Sudbury) was profiled by Melanie Marttila in her blog "Caturday Quickies: The Conspiracy of Three Series in North Bay (https://melaniemarttil a.ca/2013/07/13/caturday-quickies-the-conspiracy-of-three-reading-series-in-north-bay/)." [6] In 2016, Maurice Switzer wrote, "This summer will mark 28 years that the salon-like group has provided a venue for local and visiting practitioners of written and spoken word to publicly present their work—poetry, prose, fiction, non-fiction, essays, scripts or songs…. Fellow regular Denis Stokes, a retired English teacher at Scollard hall who teaches creative writing to Nipissing students, says it's one of the longest-running reading series in Canada….'We've been all over the place,' recalls Stokes. 'The old History and origins An early poster of the Conspiracy of 3, showing the founder, Gil McElroy. Present day and membership 2/17/2019 Draft: The Conspiracy of 3 – Wikipedia https://en.wikipedia.org/wiki/Draft:The_Conspiracy_of_3 5/6 Chicago Café, the Bull and Quench, 100 Georges, the Voyager—they seem to have all been pubs!'" 7]
Local writers, while not being paid, have enjoyed exposure and support through presenting at the Conspiracy of 3. Recently, the Conspiracy of 3 has featured authors published by new northern Ontario press, Latitude 46 (http://latitude46publishing.com/event/the -dependent-reading-north-bay/), including Danielle Daniel. Funding for out-of-town writers has been sought from Canada Council for the Arts and Nipissing University. The Conspiracy of 3 also featured a performance and presentation by Charlie Angus, now a member of parliament. Sponsored writers receiving this funding include Souvankham Thammavongsa, Angie Abdou, Lee Maracle, Tim Lillburn, Mark Frutkin, Ken Stange, Ian McCulloch, Katerina Fretwell, Roger Nash, Paul Sutherland (https://vimeo.com/68321808), David Solway, Carol Leckner, Gil McElroy, Gary Geddes, Leon Rooke, bill bissett, bp Nichol, James Deahl, Barry Grills and Bruce Meyer. New and Selected Poems, by BritishCanadian poet Paul Sutherland, founding editor of Dream Catcher (http://www.dreamcatchermagazine.co.uk/html/abou t.html), international arts journal, had its Canadian launch at Conspiracy of 3 in Fall 2016. In June 2016, Conspiracy of 3 held a memorial reading in honour of one of their (unofficial) founding fathers. "Last night at the White Water Gallery, the Conspiracy of Three held a memorial reading in honour of the late professor [Ken] Stange, who was a fixture in the reading series since its inception….. Professor Stange taught Psychology at Nipissing University for forty-one years, and was particularly noted for his Psychology of Art course." [8] Conspiracy of 3 hosts have included Ian McCulloch, Ken Stange, Clifton Whiten, Eric Nickerson, Tim Robertson, Pat Madden, Barry Grills, Kevin Smith, Janet Calcaterra, Doyali Islam, Laurie Kruk and currently Denis Stokes. Most of the hosts have been accomplished and published authors themselves. For instance, Doyali Islam has recently won the 2016 Arc Poem of the Year Award and the League of Canadian Poets National Broadsheet Contest. In November 2017, Laurie Kruk was a featured poet at Wordstock Sudbury Literary Festival (http://www.wordstocksudbury.ca/) (November 2-4). In June 2018, Crevice magazine, an international online magazine of literature and multimedia, published an interview [9] with Laurie Kruk by Monica Manolachi, focusing on the importance of The Conspiracy of 3, and the creation of such cultural communities, to Canadian Literature. In May 2018, the Conspiracy of 3 marked its 30th anniversary. [10] And an article in Write, the magazine of the Writers' Union of Canada, highlighted the Conspiracy of 3 as one of the longest-running reading series in Canada. [11]
Eberle, Bobbi (1978-11-08). "White Water Gallery presents 1st in series of high-quality poems". The North Bay Nugget. p. 21.
Brooks, Suzanne (1988-06-06). "Local Bards Read in Pub". The Monday Express. p. 6.
Smith, Marjie (1991-03-14). "Lions Heart is Home to Conspiracy of Three". The North Bay Nugget. pp. C–1.
Cleator, George (1989-03-23). "Writers Exchange Prose and Poems". The North Bay Nugget. p. 25.
Doyali Islam (2018-04-15). mclennan, rob, ed. "Interview with Gil McElroy: Conspiracy & Community" (http://www.ottawater.com/seventeenseconds/p dfs/twelfthissue.pdf) (PDF). 17 Seconds ( : A Journal of Poetry and Poetics ) (12): 8–13.
Melanie Marttila (2013-07-13). "Caturday quickies: The Conspiracy of Three reading series in North Bay" (https://melaniemarttila.ca/2013/07/13/ caturday-quickies-the-conspiracy-of-three-reading-series-in-north-bay/). Writerly Goodness.
Switzer, Maurice (2016-04-24). "Poet tries his hand at writing songs". The North Bay Nugget.
Pipe, Bob. "Stange Remembered with Conspiracy" (https://www.nipissing u.ca/news/2016/stange-remembered-conspiracy). NU News, Nipissing University. Retrieved 2018-12-20.
Monica Manolachi. "Crossing borders in poetry and politics makes us braver" (https://crevice.ro/crossing-borders-in-poetry-and-politics-makes-u s-bravercrossing-borders-in-poetry-and-politics-makes-us-braver/). Crevice – Art Poetry.
Jason Turnbull (2017-11-01). "Up North – North Bay poet takes part in Wordstock" (https://www.cbc.ca/listen/shows/up-north/segment/14625006) (Audio). CBC Radio One.
Janet Calcaterra (Fall 2018). Islam, Doyali, ed. "Celebrating Thirty Years of Conspiracies: One of Canada's Longest-running Reading Series". Write: The Magazine of the Writers' Union of Canada. 46 (Number 3): 19– 20.

Dave Dale
Writer, photographer and proud father. My mom's family is from the Soo with its Algoma Highlands, dad hailed from Cobden in the Ottawa Valley and I spent my teen years in Capreol. Summers were at the beach on the Vermillion River and winters at 'The Rink.' Born in East York but Toronto never was my thing. Ever since a kid looking out the window on long trips, I imagined living on the highway in a little house with a big yard and trees growing all around me.