Donnie Walsh, the driving force behind the iconic Downchild Blues Band, is being granted special induction to the North Bay Musicians and Entertainers Hall of Recognition Sept. 1 – ahead of the gala dinner and show for a dozen local members being celebrated Sept. 16.
Walsh, who spent formative years in North Bay, is a member of the Canadian Songwriting Hall of Fame and a Juno winner. The band is celebrating its 50th anniversary and is in North Bay for the Capitol Centre's annual BluesFest.
The usual protocol is for Hall inductees, with plaques displayed at the North Bay Mall, is to have been born and raised in the North Bay area before making a name for themselves outside the region or continued to share their craft locally.
"We are delighted to make an exception," states a media release from the group, citing Walsh's long-time connection to the Gateway of the North and half-century of achievements. "Certainly, Donnie's unique contributions to music in Canada … more than meet our criteria for induction, and doing it live onstage seems to us a wonderful and fitting opportunity."
The announcement was made just prior to Canada Day. It's been a couple years since there has been a gala dinner and show, due to the COVID pandemic, with the Class of 2019 not getting a live event celebration.
Ted Chase, president, described the situation and background of the new inductees in an interview at the Back in the Bay Magazine studio Thursday, June 9. You can see the interview at the bottom of this article.
"We have a really strong group … the largest that we've had and a very diverse, very eclectic in terms of their contributions to their fields," Chase said.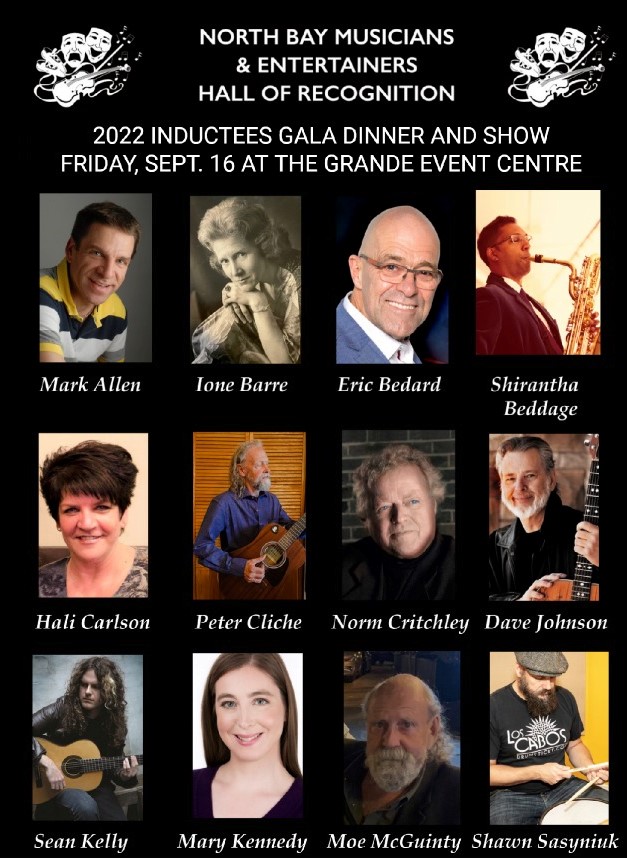 Mark Allen – keyboardist, composer, music director, vocal director;
Ione Barre – actor, director, Gateway Theatre Guild pioneer;
Eric Bedard – award-winning and renowned Magician to the Stars;
Shirantha Beddage – jazz saxophonist, composer, Juno nominee;
Hali Carlson – Dreamcoat Fantasy Theatre pioneer, long-time producer;
Peter Cliche – singer/songwriter, multi-instrumentalist, recording artist;
Norm Critchley – violinist/concertmaster, North Bay Symphony founder;
Dave Johnson – guitarist, band leader, singer/ songwriter;
Sean Kelly – rock/classical guitarist, recording artist, singer, music educator;
Mary Kennedy – lead singer, actor, multi-instrumentalist; Moe McGuinty – guitarist, singer/songwriter, long-time solo performer;
Shawn Sasyniuk – drummer/percussionist, guitarist, singer/songwriter.
Follow the group's Facebook Page or email info@northbayhallofrecognition.com and website for ticket info. They are almost two-thirds sold out as of July 8 with tickets costing $75.

Dave Dale
Writer, photographer and proud father. My mom's family is from the Soo with its Algoma Highlands, dad hailed from Cobden in the Ottawa Valley and I spent my teen years in Capreol. Summers were at the beach on the Vermillion River and winters at 'The Rink.' Born in East York but Toronto never was my thing. Ever since a kid looking out the window on long trips, I imagined living on the highway in a little house with a big yard and trees growing all around me.