Back in the Bay Magazine and the Moose Cookhouse are teaming up for another dinner and show event Thursday, July 28.
The value-for-dollar show offers an appetizer, entree and drink for $35 (tax included) and two separate sittings to choose between at 4 p.m. and 7:30 p.m.
Featured musicians include Esther Pennell, an accomplished banjo folk singer, rising teen star Jude Zappala, and veteran of the gig universe Gary Davison. Dave Dale, publisher of the Back in the Bay Magazine and local story teller, is hosting with comedic commentary before, between and after the sets.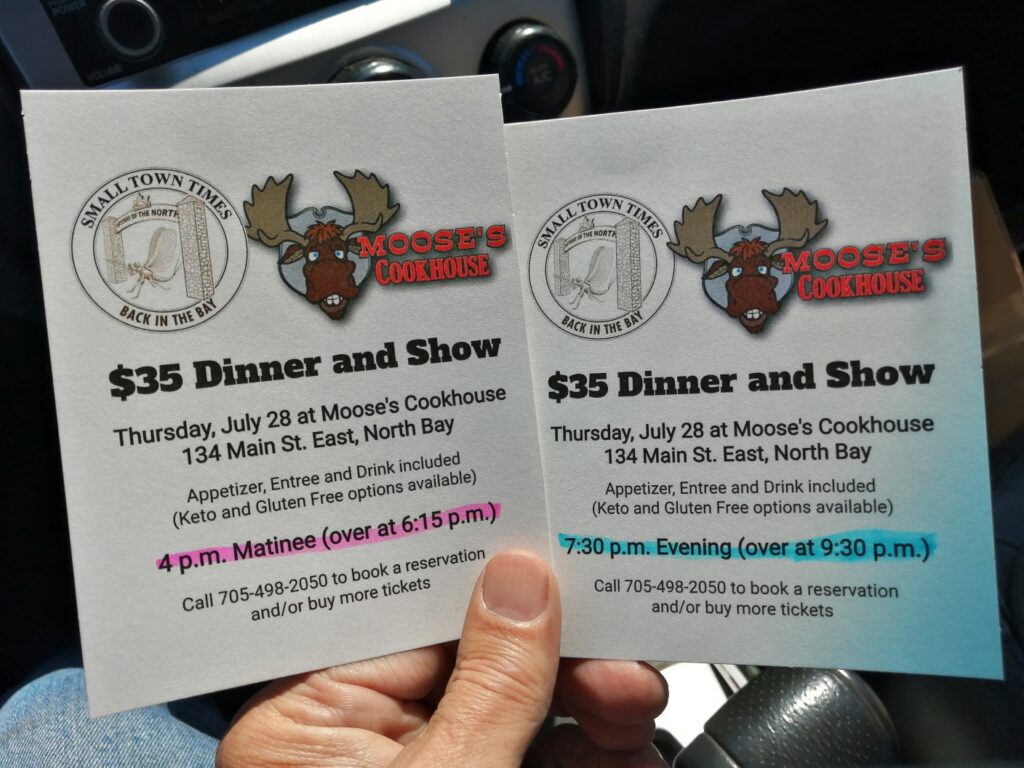 It's a similar menu (with Keto and non-gluten options) and entertainment as the first dinner and show event in May, minus the stand up comics (although there is a hope to offer an open mic stage at 10 p.m. following the event.)
"The goal is to have a good time that's more affordable than usual," says Dale, who has organized several shows and fundraisers during the past four years. "And Chris White is hoping some of the guests turn into future Moose customers, hence the very affordable dinner he's offering. Also benefiting are a few local musicians who get a week day evening gig for experience and a bit of pay while leaving the weekend for additional opportunities."
Call Dave at 705.498.2050 for tickets and table reservations or purchase online HERE.
See the video from the May event below, as well as videos done previously with Pennell and Davison.

Dave Dale
Writer, photographer and proud father. My mom's family is from the Soo with its Algoma Highlands, dad hailed from Cobden in the Ottawa Valley and I spent my teen years in Capreol. Summers were at the beach on the Vermillion River and winters at 'The Rink.' Born in East York but Toronto never was my thing. Ever since a kid looking out the window on long trips, I imagined living on the highway in a little house with a big yard and trees growing all around me.