Dylan Dale is making a move to get his mixed martial arts career off the ground by spending a month in an American hotbed of talent fueling professional leagues.
"I'm going to Arizona to train at Tim Welch's "Soul Fighters" and the MMA Lab in Peoria for the month of September," Dale said, underlining how big an opportunity it is to learn from some of the best in the world.
At his most recent competition, Dale won Submission Arts United gold in the intermediate division for 189-pounders in Hawksbury June 4. You can see him in action at the SAU event at the end of this short 80-second highlight reel below.
Born and raised in the North Bay, Ontario area, Dale is a member of Couchiching First Nation. He was a West Ferris Trojans high school champion in hockey, baseball and football, earning Nipissing District all-star designation as a linebacker and most valuable defensive player in his returning senior year.
An aggressive six-foot, two-inch prospect nearing 210 pounds at the time, he was recruited by Wilfrid Laurier University for linebacker and special teams.
There were promising highs muted by early-season shoulder injuries and Dale parted ways with the Golden Hawks amicably in July 2019. He relocated to Ottawa with the dream of being a professional fighter. Dale says MMA was the only sport he wanted to follow as a fan despite loving to compete as a linebacker, goalie and pitcher (he also played some basketball).
"After hockey, I focused on football and took it as far as I could but even though I was into working out, learning defensive schemes and competed hard for opportunities, it just wasn't my passion off the field," Dale said.
The UFC, however, was something that kept his attention 24/7, specifically the art of jiujitsu and grappling, something he enjoys learning more about at every opportunity.
"The guys would be watching college ball or pro and I'd slip away to the club to learn techniques. It was fun getting the lineman to tap," he said.
Small Town Times produced videos when Dale was playing high school football and seeking university recruitment, including this highlight reel HERE.
The COVID pandemic curtailed a quicker entry into serious mode, Dale said, although he was able to get a taste of some amateur competition in the last year as things opened up intermittently.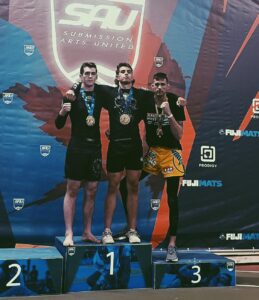 Two in-house fights, one sanctioned Muay Thai split-decision loss (to North Bay's Dylan Donnelly at an Ottawa event November 2021), and three submission grappling events (one championship in 2022), with a fourth competition later in August before flying out west.
"I love the process and the personal growth the sport gives me through training day in, day out," Dale said. "Competition is like an added bonus where you get to show your skill and really test what you've been working on in the gym."
Progression by increments is the key.
"Win or lose you take from it and you keep on progressing and becoming a better version of yourself," he says. "That's what I love about the journey I'm on."
Dale is currently working out at the Gracie Barra gym in Ottawa while traveling to Montreal with fellow fighters to train at the famed Tri-Star Club when they can. That's where retired UFC legend George St. Pierre got his start and continues to train.
"Sports has always been a big part of my life and I've learned a lot and grown through competition," he said.
"I believe everyone should follow their passion and I have to see how far this path leads me. I can see me running a club, I enjoy coaching and will likely also be a fitness trainer."
Dale is investing about $3,000 into the trip, not counting lost wages as an instructor at the Dave Stathos Goalie Academy in Ottawa (three year's experience) and as a part-time labourer for a home demolition company in the capital.
He's hoping to get some sponsorship support, although he understands it would be in advance of him working his way through the amateur levels before being able to go pro.
"I can offer future promotion and recognition at events for any sponsors or make a deal for some type of return on investment, including helping out at clinics for either self defence or goaltending down the road – I am open to ideas," he said, hoping to eventually compete at an event in or around North Bay some day.
"Any support would be appreciated but l understand, you can't just put your hand out, especially when you've moved away from home to pursue something … I could come back and do a demonstration fundraiser where I make my dad tap out in front of his friends…"
He is traveling to North Bay Saturday, Aug. 13 to attend the Justin Bruckmann seminar at Action MMA at 221 Algonquin Ave. 3 to 5 p.m. Contact action.jackson@live.ca or show up and pay at the door for the $60 event.
In the evening, Dale will be attending New Ontario Brewing to support his friend Zach Mason (Facebook Page) and his band. Mason and Dale were teammates with the championship Trojans and Nipissing Wild football teams. See a video with Mason singing HERE.
Businesses or individuals who want to support his effort can contact him through email: dylan.dale@live.com (which also accepts E-transfers.)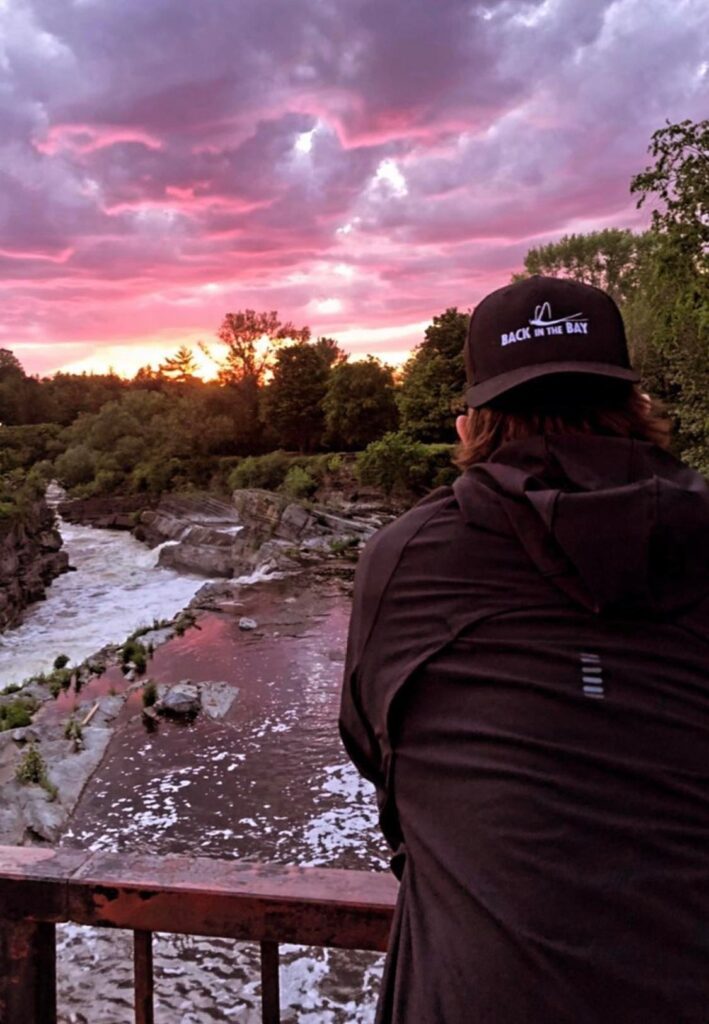 Dave Dale
Writer, photographer and proud father. My mom's family is from the Soo with its Algoma Highlands, dad hailed from Cobden in the Ottawa Valley and I spent my teen years in Capreol. Summers were at the beach on the Vermillion River and winters at 'The Rink.' Born in East York but Toronto never was my thing. Ever since a kid looking out the window on long trips, I imagined living on the highway in a little house with a big yard and trees growing all around me.