Sitting in a meeting room, trying not to sniffle, I wonder at the wisdom of my choices. Yes, we are living in a time where a slight cough or sneeze can make sphincters tighten around you. This is odd, because airborne illnesses are not really spread that way, though it might explain why I don't always see people wearing a mask.
No, I'm not contagious. I'm affected by trying to manufacture something that I'm allergic to out of, well something I am also allergic to. This is a self-inflicted condition.
I'm making leaf mold. From scratch. No instant compost for this guy. This is going to supplement the food waste already keeping the composter toasty warm.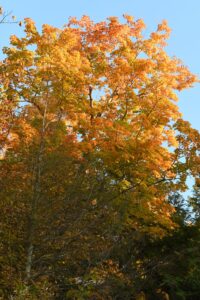 Technically, the leaves are doing the actual work by decomposing over the winter, as they are wont to do. I'm just trying to corral them so that I can use the precious resulting rot to add to the garden next year.
Apparently leaf mold is a highly desirable addition to garden soil. Will it give me even better veggies from my raised planters next year? Will I share my bounty with my wife's flowers? Time and taste will be the judge.
I gave my neighbour one of my surplus tomato plants this year, after a change in fertilizer was too much for a previously successful planter. The tomatoes flourished. He had switched from sheep manure to worm castings. Both are really poop, but they have different publicists. (Oh, and if any aspiring actors are reading this, a casting call is something completely different.)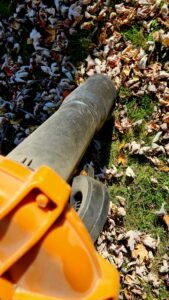 I don't have enough space for sheep, although my wife would be delighted to buy the empty field behind us and start a flock. Perhaps I could purchase a donkey for livestock protection, as many sheep farmers do. As for worms, they would be far too tempting to the local red-breasted predators. I'm not sure the donkey would be a deterrent to them. They would be bob-bob-bobbing on the poor beast's head, red-red-robbining him of his dignity.
So, leaves it is. A big bin for bulk composting is in my future. In the meantime, I've been gathering leaves and stuffing them into several large construction garbage bags, stabbing the bags several times with a screwdriver, then leaving them to do their thing over the long dark winter.
(Why do I feel like that last paragraph reads like a rejected episode of a network crime drama?)
The gatherin' 'n' stuffin' is what produces my sniffin'. I'm a long-time allergy sufferer. Leaves, leave mold, grass, weeds. All that outdoorsy stuff. It's why I still take a prescription strength antihistamine every night.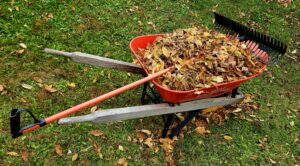 I'm nowhere near as miserable as when I was younger. Cutting the lawn left me sneezing until my nose bled, sometimes to the point where I needed to have a doctor cauterize the source of the flow. When my father bought a hobby farm, I was recruited to help with the hay. I ended up in the hospital with my eyes swollen shut.
So, I wasn't going to be a farmer, which was disappointing because I sure like a well-appointed tractor. I ogle them when I drive by the dealerships. Oh what fun I could have with a backhoe and a front loader.
I also remember taking on a misery-inducing job raking the leaves on a large old estate at the top of the hill. Two of us were being paid by the job, not by the hour. The old lady gave us two rakes. One was a garden rake. It took us several days and we made pennies an hour. I stopped and looked at that lawn a week ago. It looks like it's been manicured. That sort of technology was not available to us then, but I do have a better rake now, as well as a small blower/vacuum that mulches the leaves as you go. Change can be good.
I tried weekly allergy shots, which just left me sick and nursing a badly swollen arm. My childhood physician would unceremoniously jab that needle into my skinny bicep like he was angry at it. Now, when a nurse says, "Just a little pinch" I smile. You don't scare me. I've seen things.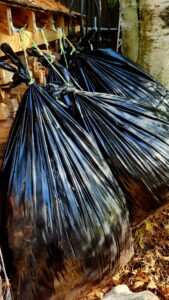 In my 20's I tried to cope with the seasonal suffering while working. Over the counter medications were less effective then. They mostly made you too tired. Mostly too tired to care about your nose running non-stop.
One particularly bad week, I took a 24-hour dose in the morning. Still sneezing, I took another in the early evening. A third one about midnight should do the trick, right?
By the time my workday started, I was as high as a kite. I spent the day in a forgotten fog. I know I did the weekly ordering – thousands of dollars of building hardware. I'm still not sure what I ordered. I may have ordered a donkey, though I don't remember receiving one. (I ordered some sheep, but they were baaack ordered.)
As the years went by, my hay fever slowly diminished, though never quite disappearing. Most recent allergy testing shows that leaf mold is still active. So is the cat allergy. I forgive him.
Oddly, some irritants have disappeared. Apparently I am no longer allergic to shellfish. I have never tasted lobster. Perhaps I will write my emergency contact number on a napkin and order the surf and turf, one of these trips to Nova Scotia. There's gonna be butter, so get me a bib.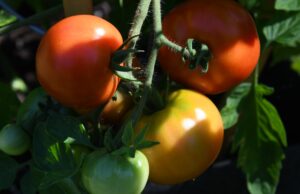 The limited forays into growing my own food is a return, not a new endeavour. I used to have a pretty big garden over 30 years ago. When I drive by that old house now, I don't see a garden. No, the spacious lot was divided and a new house now occupies what was once a source of bounty. Also gone, a black walnut and two chestnut trees. The lawn used to be active with black squirrels, all vying for what fell from their branches. I'm told the owner cried as the trees were cut down.
I missed my fresh vegetables. With retirement on the horizon, I'm dipping my toes back into the liquid fertilizer. My future holds larger plantings, a supply of canning jars, and a cold storage room.
Oh, and lots and lots of homemade vegetable and tomato soup, if this mold production experiment works out.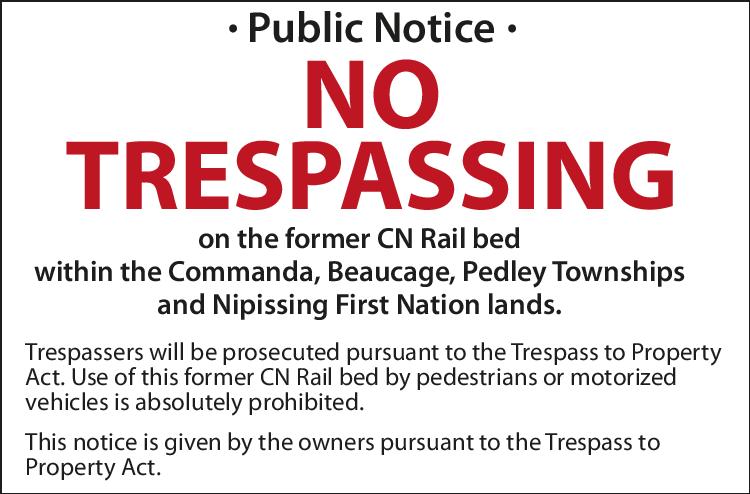 Brad Dale
Dad to daughters. Daideo to Sprocket and Spark. Makes his wife laugh. Chief cook and bottle tilter. Proud owner of two sheds. Prefers looking through a lens, reading off paper, music over silence, movement over meditation. If there's a hereafter, he hopes it has a waterfront view, nice lineup of cordless tools and a well-stocked workshop. Send feedback to: themightlymad@gmail.com