People have all sorts of relationships they navigate through daily. Some last a lifetime, while others come and go. No two are exactly the same, which can be good and bad, as we juggle the unique needs in each one. We expect something out of our connections with others, and they expect returns on their investment in us. Relationships should be mutually beneficial. If so, both parties know the other will be there when times get tough.
That's worth a lot and, like many valuable things, it's fragile and easily broken beyond repair in a careless moment.
I'm a loyal guy, and I recognize when someone is loyal to me. The balance of effort may wax and wane, but as long as there's evidence that the other party values the relationship sufficiently, I will try to keep the relationship intact.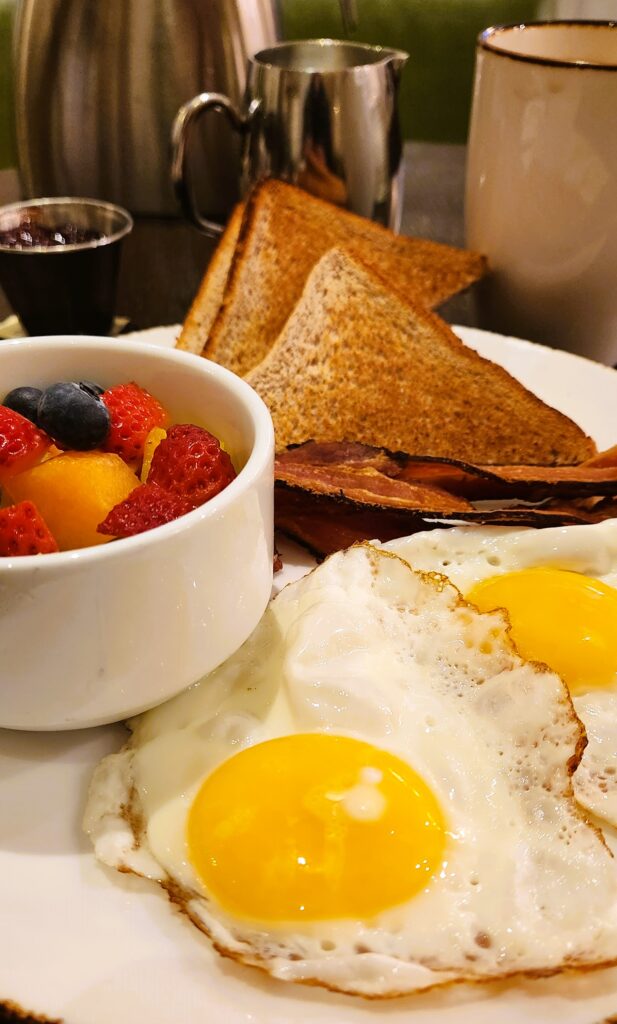 For a small town boy, I've established a lot of relationships across Canada. Family, friends, colleagues, associates, restaurant wait staff that know what my "usual" is. I often don't see them for long periods of time, yet our relationship picks right back up when the need arises. The signal sheds its cover, the lamp is lit, and I'm on my way to help.
Relationships are occasionally tested. The needs of each parties differ, the priorities don't align, communication becomes strained. Loyalty becomes tested.
Now is the time for honesty. "Hey, this isn't working for me. Something's changed. We need to work this out before our relationship breaks." A good relationship is worth salvaging, but not a one-way street.
Much can be overcome, though not everything. Cruelty, dishonesty, seriously inappropriate behaviour towards others that comes to light, all likely deal-breakers for me.
But most problems can be rectified with simple feedback. An easy righting of the ship, and we'll be fine. One side feels taken for granted, the other isn't considering their feelings, a small resentment grows.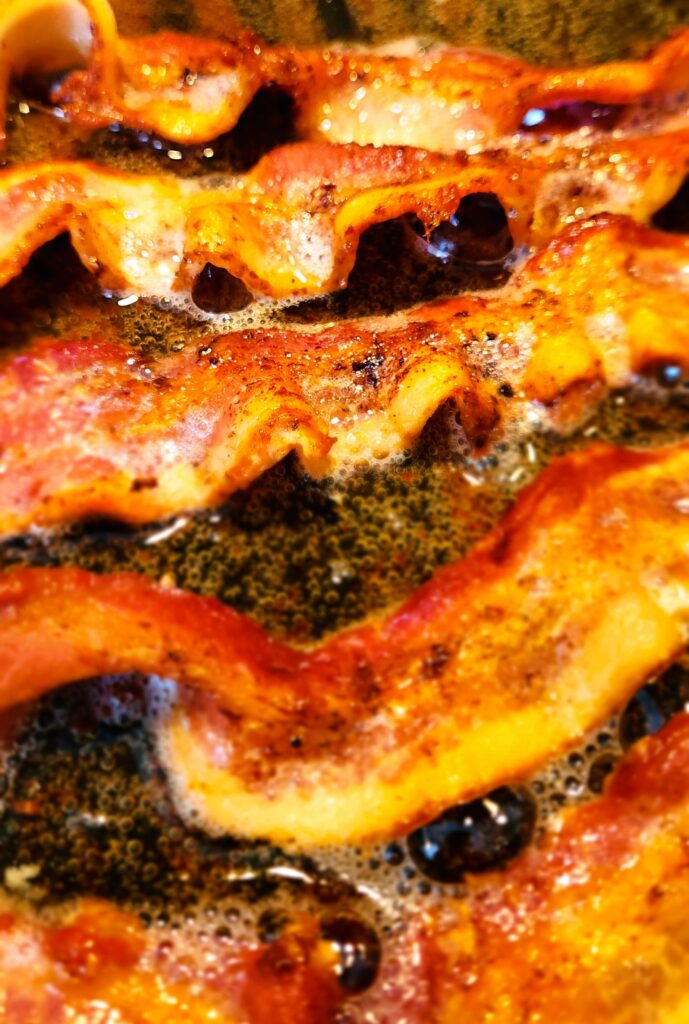 Like $4 bacon.
(I'll come back to that in a minute.)
I maintain my far flung relationships by coming to them. Travel's a regular part of my job, in-person meetings get much more accomplished than ones at my dining table desk, them staring at their phones while I stare at them on my laptop screen.
To get to them, I rely on other relationships. Airlines, hotels, car rentals. They want my business, but long-term relationships are the real goal. They offer a deal. They will be loyal to me, if I am loyal to them.
There are levels of loyalty within relationships. We can't be everything to everyone. I don't expect a work contact three provinces away to drop everything because I need help moving. No, that's something we inflict on family. Moving a body? That's an even smaller group to rely on.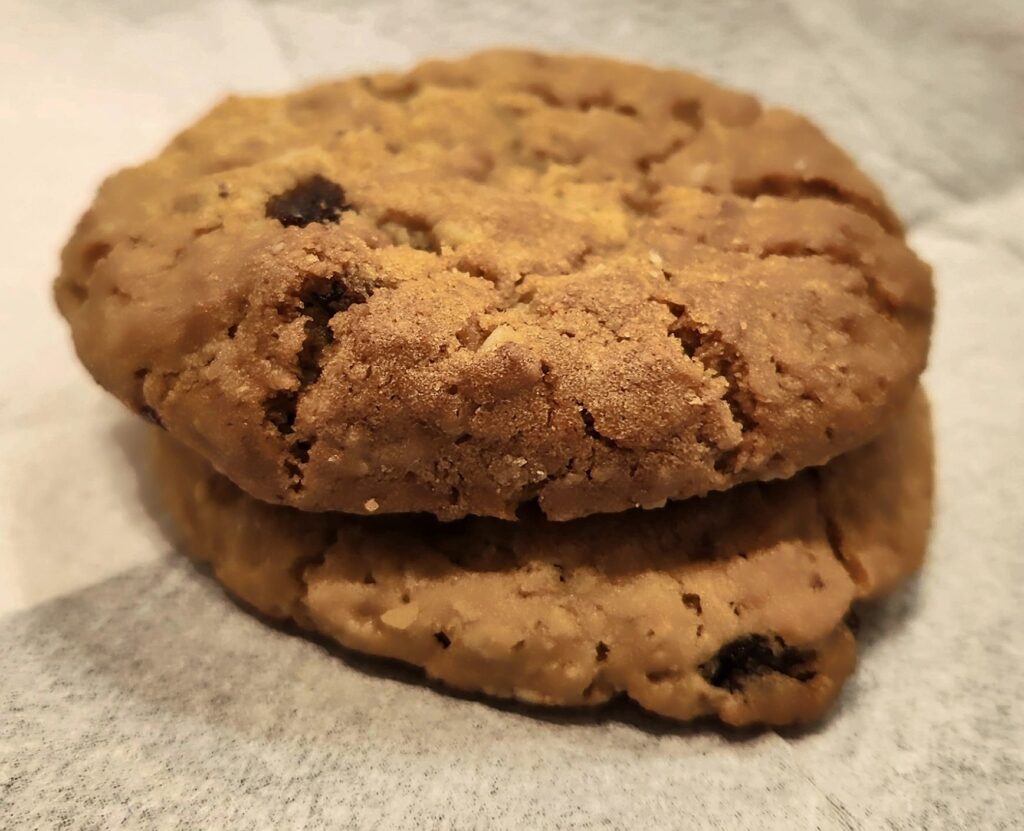 Seasoned business travellers understand loyalty programs. That airline might see you often? They're going to offer you incentives – and cookies – to stick with them. Hotel chains? They count on guests returning over and over. Renting a car? The loyal customers have a shortcut to avoid the long line. Try not to look too smug.
Rewards that come with loyalty help make business travel tolerable. It sounds exotic to travel a lot, but it's hard graft. A friendly face, a few perks, can help make up for the many challenges along the path.
When I arrived at my hotel last week, the desk clerk greeted me warmly by name. The next morning, I arrived in the hotel restaurant for my complimentary breakfast, greeted again by name. We're happy to see each other. The server takes my order, remembers I like to have oatmeal, tells me to grab a bowl from the buffet. It's a great start to my stay, and to each day during it.
It's a mutually beneficial relationship. They sometimes go the extra mile, upgrading my room. Other times, there's no upgrade available but that's ok, I know they tried.
The hotel is part of a large chain, with several brands, various "properties" within each brand. While the loyalty program is for the whole chain, there are variations within both the brands and properties. When you visit a city for work, you might have several properties to choose from. Some offer free breakfast to everyone (with a waffle maker or machine that dispenses two freshly cooked pancakes via a conveyor belt, "slap-slap", on your plate). Others have loyalty lounges, accessible to we loyal few, a standard breakfast buffet of scrambled eggs, the usual breakfast meats, fruit, and cheese.
Me, I like a sit-down breakfast in the restaurant. It's a treat. I don't have to cook, serve myself, or carry my dirty dishes to stack on the counter for washing up later. A good breakfast relaxes me, helps me focus on the day ahead.
However, one hotel where I've stayed often had a policy that injected just a little irritation into my otherwise pleasant morning ritual. It was about bacon.
If I chose not to have the cold buffet, I got a special menu, printed on cheap paper. I'll call it the "Privileged Few" menu. It screamed, "We appreciate your loyalty. However, we don't bacon-appreciate you." The bill specified a "Privileged Few$" charge for what the voucher didn't cover. For my usual bacon and eggs, that meant $4. Can I afford it? Sure. Did it irritate me? Yes. My frequent server did not greet me warmly by name. We'd had tense conversations about that damn bacon more than a few times. Our relationship was frosty. Frozen bacon frosty.
Something had to give. We became unlikely allies. I told him I was gonna change the policy. He told me that he uses me to best describe the grief he gets.
And so my campaign began.
The hotel's general manager sends me a form email right after each stay. This digital beachhead was exactly what I needed. You're taking your chances if you ask me for feedback. I'm not nasty about it, but I'll be pretty specific. My feedback doesn't throw staff under the bus. You're the subject, Mister GM, both problem and solution.

I won't bore you the whole letter, and I'm sure I can't take all the credit. Still, can't be denied that an immediate review of the hotel's breakfast policy proceeded. I followed up with a true tale of three separate servers trying to explain the breakfast coupons in the same sitting, me trying to gently suggest to each not to bother, much to the amusement of my colleague. A phone call ensued, him suggesting it wasn't within his authority, me countering with the chance to show some courage with corporate bean-counters.
A few days later, it was over, as the new breakfast policy arrived in my inbox. Victory. No more $4 bacon. The Great Bacon War was over!
Or was it? A few hours later, I wondered if I only won the battle, but not the war.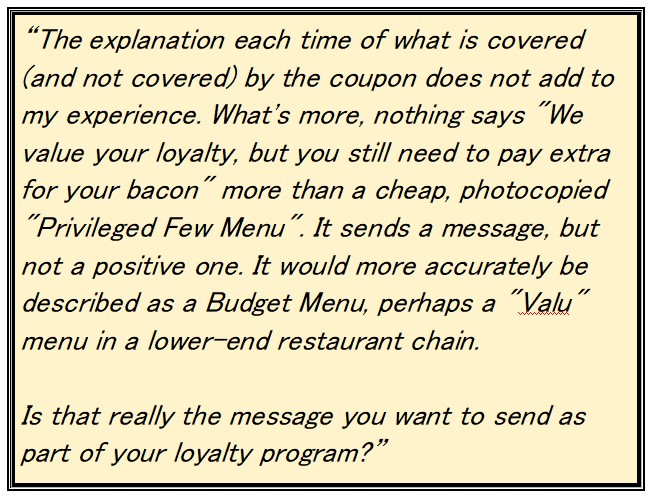 During all the excitement, I missed that I was no longer one of the "Privileged Few". A slow re-boot to work travel left me a few stays short of renewal of that level, despite having been there for eight straight years.
Last week's delightful desk clerk first pointed it out.  No worries, she smiled and said I'd still get my breakfast. Empowered front-line staff is a good thing.
Even so, that left me sheepishly emailing Mr. GM once again. I called upon his loyalty, mentioning that I'll have over 20 nights at his hotel by April. He assured me I'd be taken care of.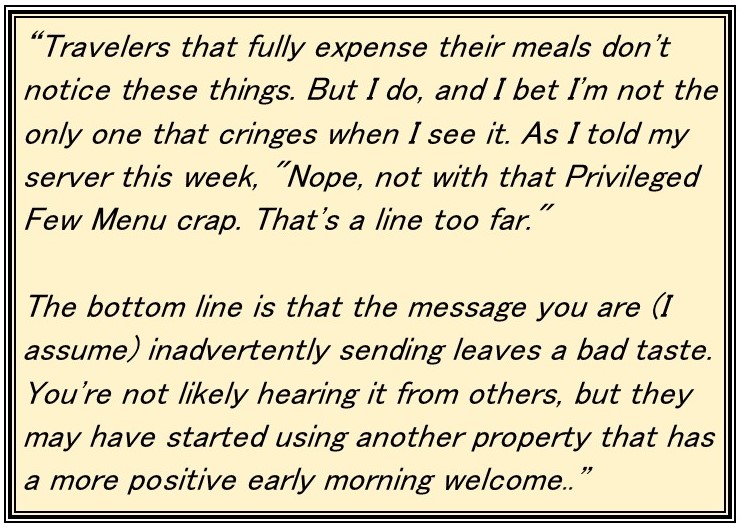 And yes, when I arrived this week, my breakfast vouchers were freely given, with one grinning desk staffer saying, "Yes, we all got the email." The next morning, my once frosty friend greeted with me with a big smile, saying he threw the cheap menus into the trash as soon as he read the new policy. The staff were happy with the change.
Still, I was a little disappointed in him. I thought he might keep just one menu on hand, to present to me as a souvenir of the battleground.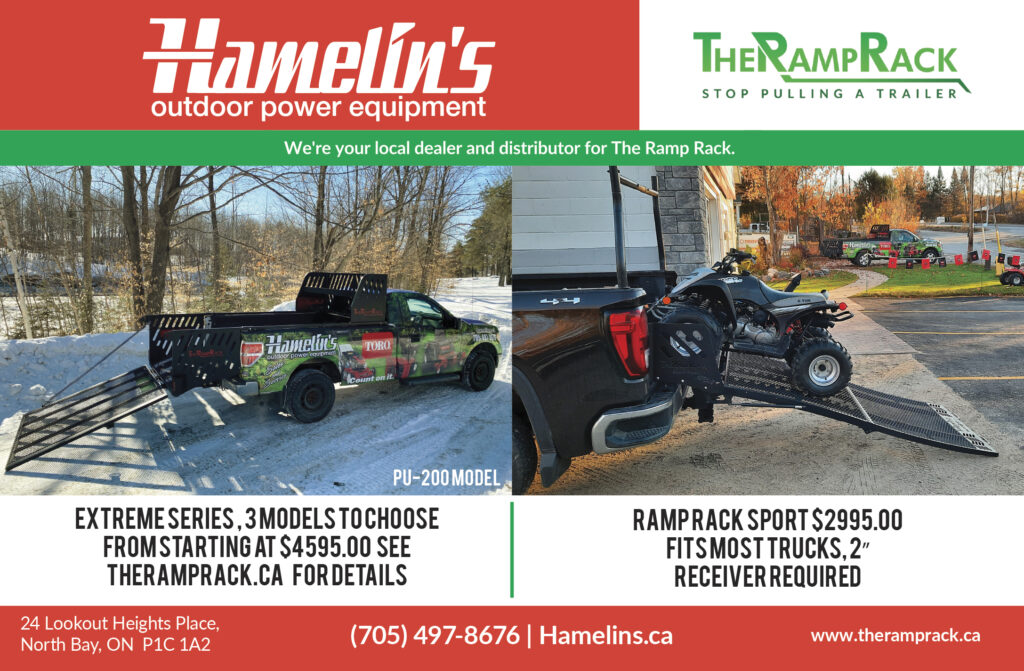 Brad Dale
Dad to daughters. Daideo to Sprocket and Spark. Makes his wife laugh. Chief cook and bottle tilter. Proud owner of two sheds. Prefers looking through a lens, reading off paper, music over silence, movement over meditation. If there's a hereafter, he hopes it has a waterfront view, nice lineup of cordless tools and a well-stocked workshop. Send feedback to: themightlymad@gmail.com