For years, North Bay has been known as "a hockey town" – after all we were one of the first "Hockeyville" winners – but I would posit the proposition that for much of its short history, it could just as logically be tabbed "a softball town".
To wit – for a period of some 75 years, from the mid 1920s through the rest of the 20th century, North Bay softball teams (also called fastball) won 17 Ontario championships in adult categories and an amazing total of 81 regional titles, 66 of them in adult divisions. North Bay men's squads won 11 OASA All Ontario pennants while distaff crews won a half dozen women's WOSL, OWSA and PWSA crowns and into the bargain added an Eastern Canadian silver medal in 1991.
Photographs courtesy of the North Bay Sports Hall of Fame
The North Bay area was first settled in 1882 and we officially became a city 1925 – the very next year both men's and women's organized softball leagues began play. The women achieved great success almost immediately with the famed Rinkey Dink franchise which was a dominant force for half a decade, reaching provincial intermediate softball finals in 1928 and 1930 and capturing this city's first Ontario sports title in any sport in 1929 by downing Owen Sound in the 3rd game of a best of three on neutral grounds at Orillia. The team was met by an auto cavalcade from North Bay on their way home and were honoured by a parade and civic reception for their feat.
The first Ontario sports title won by a North Bay men's team was captured by Fisher Mercuries softball crew in 1941 as they downed Toronto Philco's in the Ontario Amateur Softball Association Intermediate A best of three final on Thanksgiving weekend in Toronto. In men's competition for many years the various provincial finals were played that weekend in October and where there was north-south competition it alternated between the two. In 1981, the OASA instituted an eight-team, double knockout tournament format that eliminated the north-south aspect.
The Most successful decade for local men's teams in provincial competition was the 1950s when four won All Ontario Intermediate A honours, including three in a row, and another was a co-champion. In 1951, Garland Pepsi's shared the crown with Toronto Evans (weather washed out the final) and in 1953 Gateway City crews started a successful string with Pepsi's taking the pennant over Walkerton Harleys on a deciding game, 12th-inning home run by Cuggy Gauthier, followed by Parkview Hotel in '54 (they downed Meaford Knights in Meaford) and Belmont Hotel handled Toronto CFS in 1955.
A shorter version of this column is published in the Spring 2023 edition of Back in the Bay Magazine
Those teams went under different names but nine players performed for all three teams with Harley Taylor anchoring all three 2-1 series triumphs. In the '54 round, he struck out 55 in three games. In 1957, Browns Supply Gold Seals took the OASA Intermediate A crown over Toronto Avon with Sunny Jim McKinnon (he of the famed "slowball") hurling all 27 innings and Stan Maxwell hitting three home runs, so in the '50s, Gateway City clubs grabbed four provincials in five years and tied for another. George Gosselin was the only player to dress for all five teams while Ken Gribbons played for four as did Taylor, Al Brennan, Bob Risk, Harvey Lalande, Russ Springer and Roy Clarke. Important to note, 1957 marked the first time that the OASA did not allow the northern entry to pick up replacements for hockey players wo had to report to camp. To reach the All Ontario final a local team had to win the Gateway Fastball Association (D.J. Morland Cup), then take the Northland Fastball Association title and finally, down a representative from Sudbury.
North Bay lady softballers had a similar span of dominance on the provincial scene. From 1989 through 1993, local teams won four All Ontario Women's Intermediate A titles and an Eastern Canadian silver medal. Belmont Hotel went 41-4-1 in 1989 to start the string. The team won four in a row in the PWSA tourney in Strathroy with Karen Faubert (4-0) being named the top pitcher. In 1990, the same basic crew of players (nine and coach Terry Vendetti were with the '89 and '90 clubs). Under Fraser Tavern sponsorship, they took the same pennant in the championship tournament here in North Bay as Faubert again won four straight and Bonnie Zufelt was named tourney MVP. Fraser Tavern won the provincial intermediate A category again in 1992 and 1993. That 1993 Fraser Tavern victory marked the last time a North Bay adult softball team won an Ontario championship pennant. Coach Vendetti and foru players – Denyse Lafleur, Chris Avery, Karen Storie and Patti Chamberlain – were members of all four of those provincial titlists. The '92 and '93 crews lost only one game each all season and Avery hit .521 in the '92 provincials.
In 1991, the Tavern ladies won PWSA regional gold, which qualified them for the Eastern Canadian Championship tournament in Halifax where they took silver, losing to Ottawa 6-3 in the final. Diana Schoneveld of the Tavern was named top pitcher in the event.
North Bay Pat's Lambs ladies ended a 49-year provincial distaff drought in 1978 by winning the PWSA Open Intermediate AA championship, downing Oakville in a final at Barrie after going undefeated in the GMFA Ladies League and final playoff action. Zufelt and Faubert were the oly players to play with the 1978 Lamb's crew (although Faubert wasn't at the tournament) and bridge the gap to play in 1989 and '90 with Belmont and Fraser. It is interesting to note that the AA provincial trophy won by Pat's Lambs was donated by Gladys Gigg Ross of North Bay, veteran executive and former president of the PWSU (forerunner t the PWSA). She presented the trophy, named the Ellen Anne Ross for her daughter, in person. Gigg Ross was a lifetime member of the PWSU and was elected to the North Bay Sports Hall of Fame. Lambs had won four straight GMFA ladies titles and three NSA awards going in to the Barrie event.
The first time a North Bay men's team competed at the Senior B level was 1972 and it came about because Ron Duffy, who always thought beyond the box, wouldn't take no for an answer. His Browns team lost to Gateway Delivery in GMFA playoffs and were eliminated from Intermediate A playdowns. Intermediate A was this city's normal category by population but Duffy proposed jumping to senior B and application to the OASA was upheld so Thanksgiving weekend that year, Browns hosted Toronto York Simcoe at Amelia Park under extreme cold and snowy conditions. Gamer Daniel Gagnon, who struck out 16 in 23 innings, was hit on the pitching arm while battling in the 3rd inning of game one and despite great pain, threw a six-hitter in the deciding game to give North Bay its first and only provincial Senior B title 4-2. Local clubs went on to capture 10 other NSA Senior B awards but none of them was able to succeed provincially, although in 1982, ServiceMaster Rumors reached the semi-finals before being eliminated by Waterloo in the tournament at Woodstock.
In 1975, Browns Supply finished last in the GMFA but again played musical chairs, offered to host the Thanksgiving weekend Provincial Senior A final at Amelia Park against Toronto Winston Park Caterers (formerly known as the World Champion Richmond Hill Dynes) and lost two straight.
In 1973, Gateway Delivery, with only 13 players in their lineup, won North Bay's first Ontario Intermediate title since 1957 on the arms of Brian Watters and Ike Bean as they blanked Barrie Lakeview with Watters tossing a one hit shutout and fanning 16 in game two (3-0) and Bean allowing six hits in a first game 2-0 whitewash at Amelia Park. The Gateway crew finished the season with 35 wins, 4 losses and a tie.
Fraser Tavern clubs took back to back Ontario men's titles in 1985 and '86, the first time in 30 years, this time in the Intermediate AA category. The '85 tournament took place in Peterborough and North Bay hosted the following year with Bean being named the most valuable pitcher in both events and Peter Topolie being named 1985 MVP. Fraser thrashed Peterborough 9-1 and 11-1 in the '85 final while in 1986 they took Sarnia 5-1 in a sudden death final. Mike Umphrey was the coach and the player roster was virtually the same on both squads.
Northern Honda was the last Gateway City men's squad to capture provincial honours, achieving that feat in 1991 when they won the OASA Intermediate A championship tournament held in North Bay. Ken Besner fanned nine and gave up just four hits as Honda blanked Owen Sound Mooney Grenon Fuels 2-0 in the championship final with Larry Tougas getting a pair of hits and scoring a run. Honda finished the season with 44 wins and only four losses. In local GMFA play that year, Besner had a 21-3 record with 210 strikeouts but Honda barely survived the North Bay finals. They were trailing the best of five set 2-0 before winning the crucial third match over Kent Trusses 1-0 on an error and wild pitch before going on to win the Morland Cup. Honda's third-straight visit to the All Ontario was in 1991 with Besner's pitching also key to the '89 season's success.
It's worthwhile adding that in 1984, South River Happy Landing Esso, a GMFA team, won the OASA Intermediate D championship on the pitching of Don Folliott, who crafted a no hitter during the tournament.
Some other teams worth noting – Wright's Blocks dominated the local ladies' scene from 1958 through '63 winning four city league titles and a pair of NSA crowns sparked by the play of Marg Stephen and Lynn Pearson. Other women's teams that displayed local dominance, winning four consecutive North Bay championships, include the aforementioned Pat's Lambs ('75-'78), Frank Vetere's ('80-'83) and Fraser Tavern ('90-'93); Lamb's also won four NSA titles and Vetere's captured three. The most obvious display of dominance however came on the men's side of the ledger with Brown Supply Gold Seals winning five straight GMFA D.J. Morland Cups ('57-'61) and winning eight titles and tying for another in 14 seasons ('57-'70). In all, six teams won three straight Morlands and Palangio Dodgers and Mister Transmission each won four times in a five-year span. Craig Bit ('42-'45), Fraser Tavern ('83-'85), Northern Honda ('90-'92) and Kent Trusses ('93-'95) all took three in a row while the RCAF Voodoos won in '63 and '64 and tied Browns in 1965.
So next time someone says to you North Bay "is a hockey town" give a thought to the 75 years when softball/fastball ruled the summer roost here in the Gateway City. A time when the names of Hec Valade, Roy Clarke, Chuck Booth, Garry Meehan, Dave Saad, Leon Clarke, Bonnie Zufelt, Norma Higgs, Karen Storie, Lori Barber, Jackie Fellman, Denyse Lafleur, Sal Setchell and dozens more flashed across the headlines for their impressive deeds between the chalked lines on the greensward.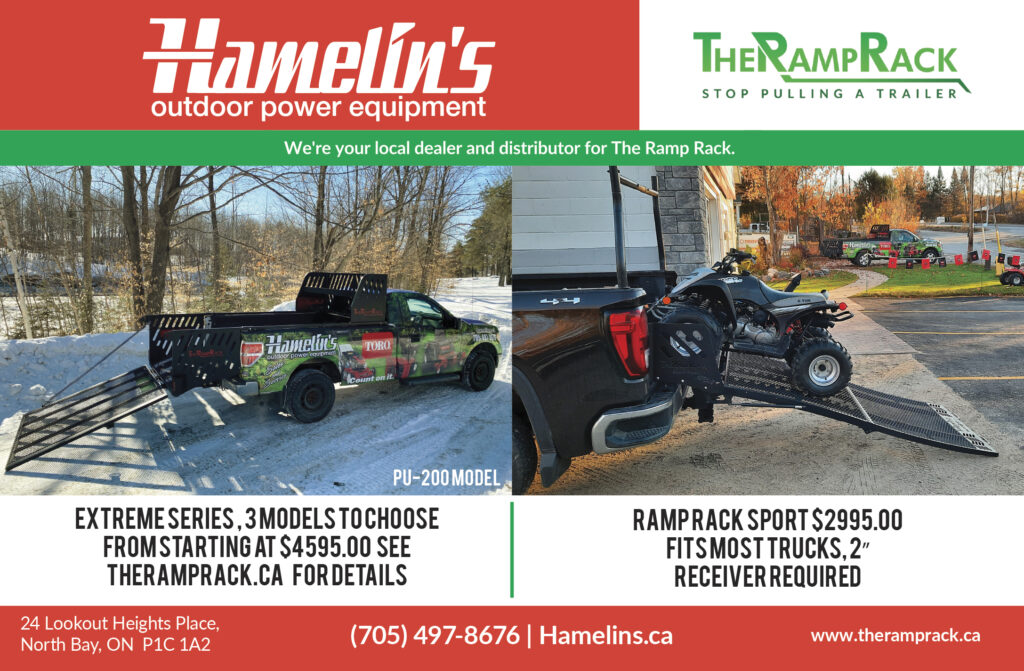 Pete Handley
Pete Handley is a veteran journalist with radio and television broadcast experience spanning seven decades. A household name in the North Bay area, he's been an active volunteer with the North Bay Sports Hall of Fame and North Bay Heritage Committee. Pete and his wife Pam (also a founding contributor to Small Town Times' Back in the Bay Magazine) recently moved to Belleville to be closer to their children and grandchildren. Contact them via email: peterpamhandley@gmail.com