It was a perfect Sunday morning in late November, 1964. I was visiting my sister and brother-in-law, Edna and Stewart Scott at their home just outside Callander. There we were drinking coffee, chatting about the usual things with no sign that my life was about to undergo a big change. The previous summer the dynamic duo had put the finishing touches on their latest project, a 2,000- foot air strip. Stew had just earned his private pilot's licence a few months before. His plan was to buy a small plane, and fly it from his doorstep.
Pat Madill Stamp's column was first published in the Spring 2023 Edition with the second part going into the Summer 2023 magazine
The result was that their home and Scottfield Air Port would become a magnet for pilots and wannabe pilots. On that lovely, quiet, Sunday morning the sun was shining on the few inches of snow that had fallen overnight, however, the peace was about to be shattered with the roar of a low flying plane buzzing the house. Stew jumped up to greet the aviators. Edna put more coffee on. This would become the pattern of their lives for several years. Their fly-in company arrived in the form two young men, Adrian Sandsiuk, pilot and Lloyd Stamp owner of the plane. This coffee klatch was my first experience of "hanger flying"; a phenomenon that happens when two or more flying enthusiasts gather over coffee. It was my first exposure to "plane talk", a whole new language for me. And by a quirk of fate it was the day I met my future husband.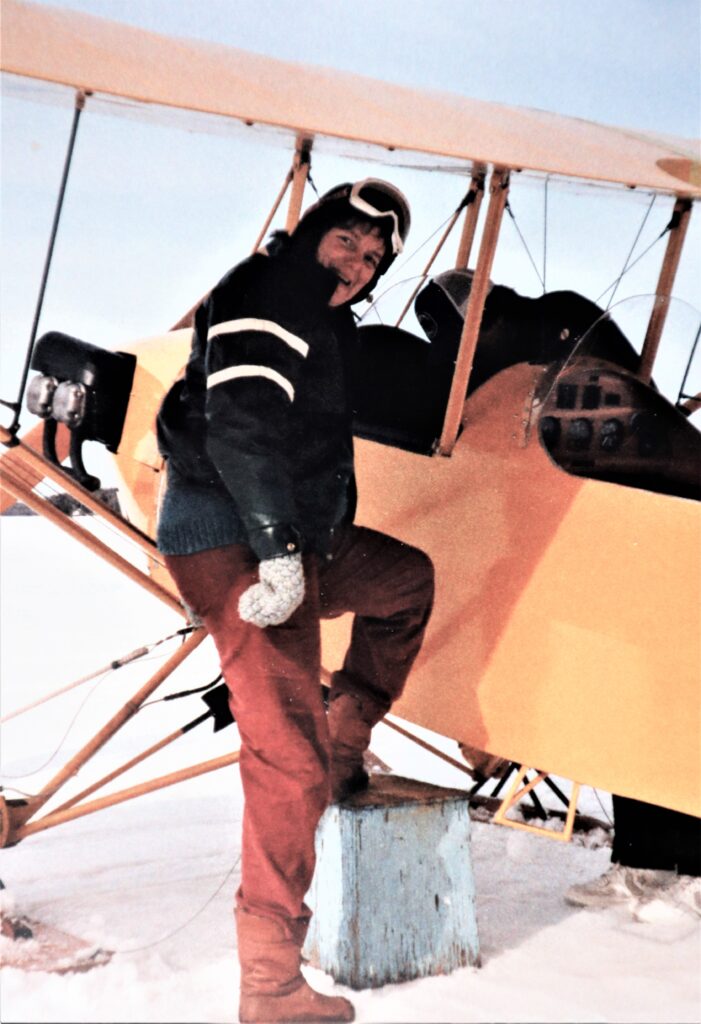 Adrian and Lloyd knew each other from high school and had recently renewed their acquaintance at a chance meeting in Cochrane Dunlop Hardware. Adrian had just returned home after three years in the RCAF where he had learned to fly. He invited Lloyd to go flying with him, saying he often rented a plane at Orillia Air Service. A few weeks later, after about three flights with Adrian, Lloyd decided he wanted to get his private pilot's licence. Before that could happen he went shopping and bought his own plane, a two seater Luscombe 8A. Lloyd erroneously believed that it was an economical move since the cost of flying lessons was reduced for those who learned on their own planes.
In those days private flying was at its peak and Orillia Air Service was a going concern. The head office was in Orillia, Ontario with a northern base on Trout Lake where planes were equipped with skis in winter and floats in summer. Many local pilots owe their excellent training to Sam Rowe, Stan Nichols and Ron Larsh. All accomplished bush pilots with thousands of hours of flying under their belts. Sam was best described as a true "character" with more flying adventures and misadventures than he could count. There is a saying, "There are old pilots and there are bold pilots but there are no old, bold pilots." Sam proved that saying to be false.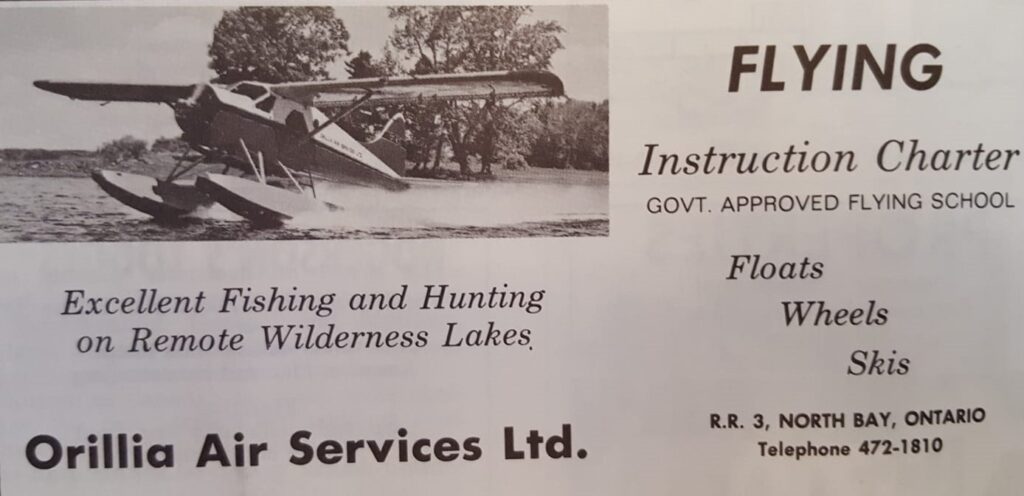 In March of 1965 Lloyd earned his private pilot's licence. In his log book he recorded Pat Madill as his first passenger. We were married in October of that year and our flying adventures continued. As mentioned in a previous column, Lloyd spent six years building a plane in our basement. The Pietenpol was an open cockpit 1929-era high wing monoplane. Many people, mostly women, would ask if I was afraid to go flying and I could honestly say that I wasn't. Lloyd's first flights in the Pietenpol did cause me some concern in case he forgot a bolt and a wing fell off. Lloyd had read too many Ministry of Transport Accident Reports so I knew that wasn't outside the realm of possibility. It's rare but wings have fallen off home built planes.
These are the kind of thoughts that plague you in the middle of the night. Fortunately, no wings fell off the Pietenpol.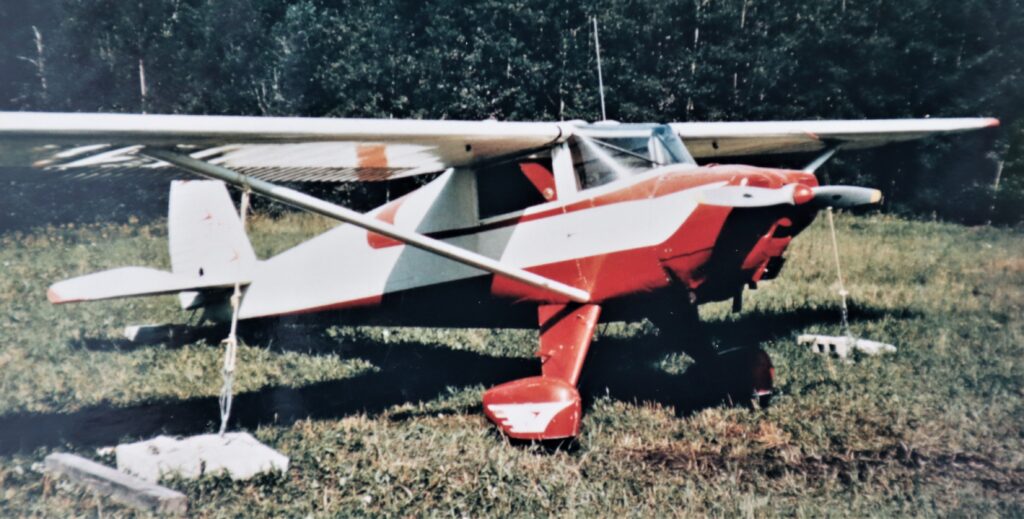 Our one and only "incident" happened in 1997. That summer Lloyd had the use of an Aeronca Champ on floats giving us the perfect opportunity to visit a friend on Lake Temagami. We set out on a beautiful day in late September with clear autumn skies and unlimited visibility; perfect flying weather. We took off from South Bay and by the time we reached the north shore of Nipissing the infamous Sudbury "stack" could be seen in the distance. Our friend on Lake Temagami convinced us to stay for dinner. Who could turn down good food in beautiful surroundings? However, timing our return flight was critical because the sun would be setting by the time we got to Wade's Landing where the plane was kept.
Twenty minutes after takeoff Lloyd  spotted a pretty little lake that looked like a mirror surrounded by the glorious  colours of autumn. He banked the plane to have a closer look and told me to keep an eye out for any bush roads that might provide access by car. There was one that led straight to the northwest shore but no cottages or buildings could be seen from the air. Lloyd circled the lake and was about to resume our southward course when there was a massive BANG! from the engine, a splat of oil covered the windscreen and the plane shook violently. It felt like we were in the middle of a WWII dog fight. Lloyd immediately cut the power, the shaking stopped and the Champ suddenly became a glider. Ahead of us lay nothing but bush and swamp, below us a very little lake. Lloyd banked the plane toward the glassy water and said, "Don't lose sight of that road."
To be continued …

Pat Madill-Stamp
In 1958, my Grade 8 classmates voted me most likely to become a writer but I fooled them and myself by becoming professional potter. During my 38 year career, I turned approximately 40 tons of clay into mugs, bowls and sculpture. In hindsight, writing would have been a lot less strenuous. Retirement came in 2016 followed by a move to "town." Gardening and writing fill my need for both physical and creative activity. I love telling stories and I particularly love bringing to light the forgotten and often unsung artists and arts organizations that have made North Bay such a creative community. Columns will also appear in the Back in the Bay Magazine with the inaugural edition May 1. Six appeared in A Bit of the Bay Magazine February to December 2020, which will be posted here in coming weeks.