Several northern artists are taking part in an artistic protest over the development of green and forested spaces in southern Ontario. A variety of works are planned to bring specific attention to the threats to the Blue Mountain Niagara Escarpment Greenbelt.
Dermot Wilson, Don Chretien, Terre Chartrand and Ernest Daetwyler, of the Broken Forests Eco-Artists Group, are joining forces with many others at the Escarpment/Erasure Eco Art Project near Ravenna, ON (southeast of Meaford in the Grey Bruce area). The land-based installation opens Saturday, May 27, and continues for five weeks on and near the Knowles Farm, right across the road from a forest slated for removal by the Castle Glen Development Corporation. As an example of the participants, artists from the Ontario Society of Artists will be sketching in an area close to the Talisman Development Corporation site.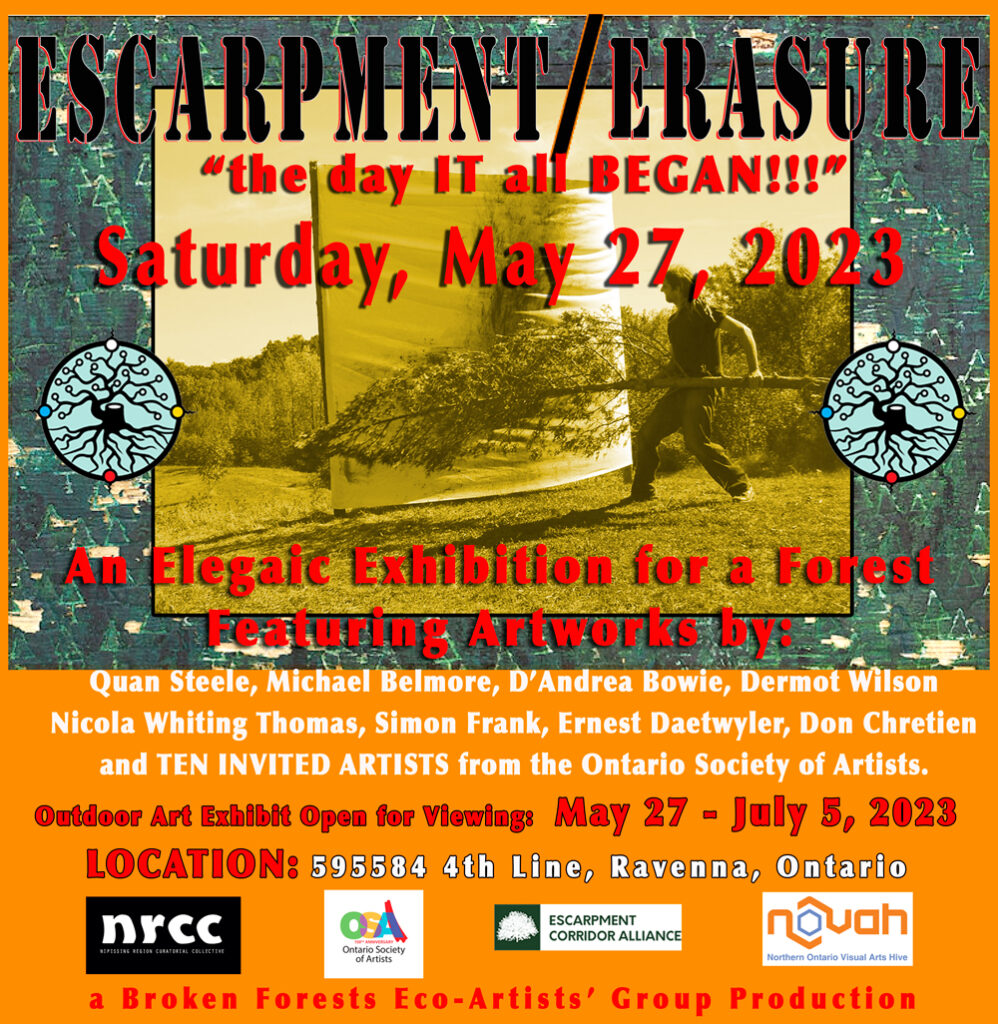 The project includes eight site-specific art installations, two performance art works, a "pop-up" exhibition of works created on the endangered lands, informal gathering of artists and concerned citizens to raise awareness of the proposed development plan and what groups are doing to stop those plans from going ahead.
Wilson is the executive director of the Nipissing Region Curatorial Collective Executive Director, Terre Chartrand, is the NRCC project coordinator, Ernest Daetwyler, Broken Forests Eco-Artists' Group co-founder, and Janet Hendershot is the OSA representative. It is hoped to get more people involved by supporting the Escarpment Corridor Alliance.
Artists exhibiting: Dermot Wilson, Michael Belmore, D'Andrea Bowie, Nicola Jane Whiting Thomas, Ernest Daetwyler, Janet Hendershot, Simon Frank, Quan Steele, Don Chretien, Gill Cameron, Heidi Burkhardt , Marina Hanacek, David Dawson, Soroush Dabiri, Elizabeth Jackson Hall, Mary Seymour and Nancy Chalut.
Contact: thebrokenforest@gmail.com
Dermot Wilson: 705-358-1764

Dave Dale
Writer, photographer and proud father. My mom's family is from the Soo with its Algoma Highlands, dad hailed from Cobden in the Ottawa Valley and I spent my teen years in Capreol. Summers were at the beach on the Vermillion River and winters at 'The Rink.' Born in East York but Toronto never was my thing. Ever since a kid looking out the window on long trips, I imagined living on the highway in a little house with a big yard and trees growing all around me.