For those who still eat meat, the price of steak makes it a luxury item on most budgets.
Fortunately, I don't eat much these days and can get by with small portions. Keeping trim is essential.
These strip loin grilling steaks cost $12.20 for label weight of .554 kilograms, which is 1.22 lbs or 19.5 ounces. I believe four or five ounces is the recommended red meat meal portion for a man of about 160 lbs. on a 5 foot, 9-inch frame. That grills up to four meals of 4.8 ounces each costing $3.05.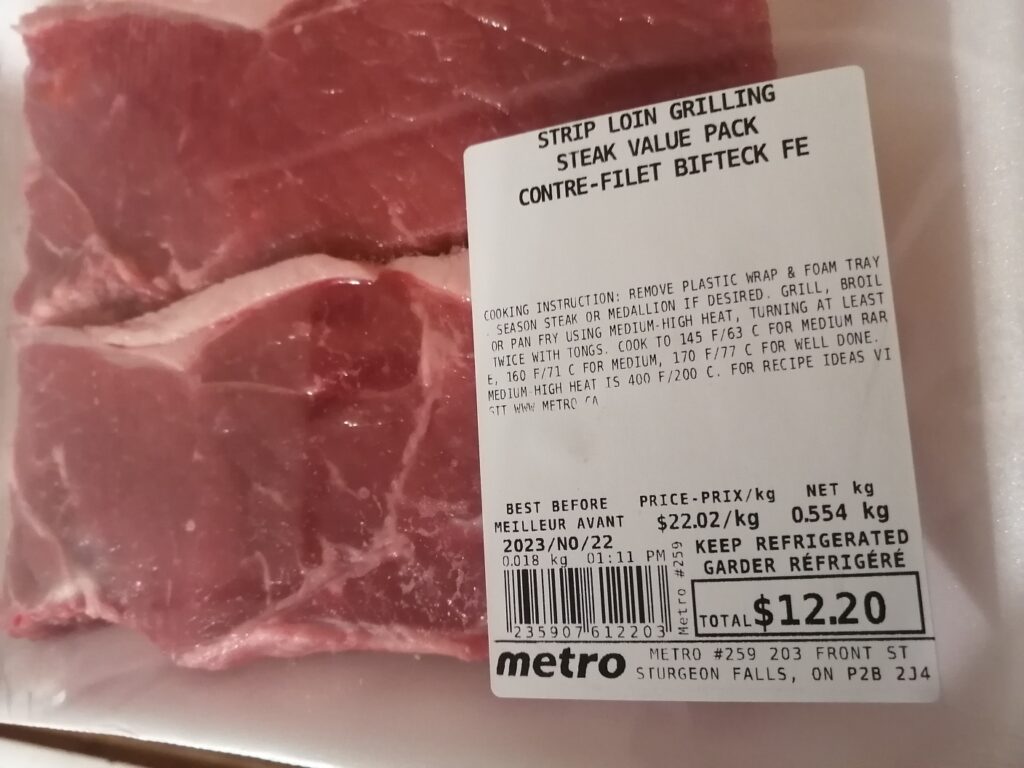 Normally, I'd cook both at the same time, cut it up into four pieces and eat the first portion for dinner (likely with potatoes and vegetables). And the second portion would go with my eggs at breakfast. I'd eat something else for a day or two, and let it sit in the fridge until it gets mixed into a rice stir fry (one dinner and a lunch).
Potatoes, balsamic rice, eggs, green vegetables, carrots, onions, old cheddar. I like chicken mostly, maybe some ham here and there. Three or four slices of Dempster's Multigrain a day (ya, I know. Tsk. Tsk.).
Good think I don't have a palate. Rock salt and ground peppercorn spice up my life, maybe a sprinkle of Tex Mex if we're getting crazy.
Don't get me wrong. I'm not a role model. When I'm rolling in the dough and self destructive I'll get the Wendy's cheeseburger deals that come with the tear off combo coupons. I'll even drink the poisoned sugar drink, usually ice tea or root beer, in case you are wondering. Also when feeling rich, I like coconut butter and real butter, as well as pickles. Things are good when I have a couple jars of pickles in the fridge.
Obviously, I'm frugal enough to track the costs of my sustenance-level diet if I'm preparing my own meals all week using basic groceries and a little bit of variety.
My size and age, mind ya, with only a moderate amount of calories burned doing yard chores plus the odd chin up. I'm damn near sedentary most days.
It used to work out to about $10 a day or $300 a month (that means no pickles or fancy condiments, though). I can imagine that going up to $400 month if gave it realistic scrutiny today.
Of course, that doesn't count the fridge, stove and overhead that comes with having a kitchen and pantry.
A monthly hacienda lifestyle budget is over $3,000 these days if you count car and house insurance, property tax, internet, cell phone, subscriptions, groceries, car maintenance, fuel, mortgage, electricity, wood. No trips, nothing nice. Same old clothes. It added up to about $2,400 five years ago.
Another thing that helps me is being able to cook basic stews, soups and every kind of egg imaginable. I'll take the fat cuts off those striploins and boil them up for a cup of soup, topped with onions and peas as a snack.
Got any bachelor tricks to eat more with less? Let me know. Send a comment through the editor/contact tab

Dave Dale
Writer, photographer and proud father. My mom's family is from the Soo with its Algoma Highlands, dad hailed from Cobden in the Ottawa Valley and I spent my teen years in Capreol. Summers were at the beach on the Vermillion River and winters at 'The Rink.' Born in East York but Toronto never was my thing. Ever since a kid looking out the window on long trips, I imagined living on the highway in a little house with a big yard and trees growing all around me.