Air Canada will be servicing North Bay Airport again – possibly starting in June if travel bans are lifted.
Mayor Al McDonald broke the news April 12 after the airline and federal government hammered out a major loan agreement.
It was a timely development and a rare bit of positivity. The largest plaque the Municipal Heritage Committee has every created was just installed at the Jack Garland YYB Terminal.
The federal government is giving the airline access to $5.4-billion in loans to stay afloat and keep 14,859 employees on its payroll.
Included in the deal is returning regional services cut back last summer after COVID-19 pandemic travel restrictions diminished travel worldwide, leading to massive restructuring.
Losing Air Canada passenger service would have put North Bay at a major disadvantage with city council having to financially support the airport. It had lost Porter Airline several years prior after providing financial incentives to lure them to the city.
Under Ottawa's Large Employer Emergency Financing Facility, Air Canada has access to $4 billion in loans, including $1.5 billion as a secured loan, and $2.5 billion in unsecured loans. Air Canada will also have access to an additional unsecured tranche of financing that bears a lower interest rate (based on government bonds) and a longer term (seven years) than the company's more general liquidity loans. The maximum amount of financing available for voucher reimbursement is $1.4 billion.
The plaque celebrates North Bay's aviation history by combining archive photos from several collectors and North Bay Museum with historical background by Capt. Doug Newman, 22 Wing Heritage Officer.
The history of aviation in North Bay began when the first airport was established in 1923, a commercial 800-yard seaplane station on Trout Lake. It was called 'The Harbour' at Trout Mills, as seen in the aerial photo above from the Hicks Collection/North Bay Museum. A Canadian government flying boat captain and his furry passenger while on Lake Nipissing in 1922 are depicted beside it.
On March 21, 1938 it was announced Trans-Canada Air Lines airport construction would get $236,000 in federal money.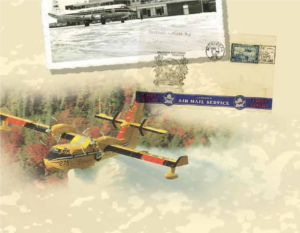 For more uplifting news, see Pam Handley's Heritage Matters column about the North Bay Airport, which includes details of a time capsule that celebrated its first 50 years in 1988.

Dave Dale
Writer, photographer and proud father. My mom's family is from the Soo with its Algoma Highlands, dad hailed from Cobden in the Ottawa Valley and I spent my teen years in Capreol. Summers were at the beach on the Vermillion River and winters at 'The Rink.' Born in East York but Toronto never was my thing. Ever since a kid looking out the window on long trips, I imagined living on the highway in a little house with a big yard and trees growing all around me.