There's an eclectic blend of nostalgia and current events in the Summer 2021 Back in the Bay Magazine.
Editorial content includes features with dozens of familiar names in North Bay and Callander, all representing the interlacing communities of theatre, volunteer service, journalism, arts and sports.
Four thousand copies will be distributed by Canada Post as early as Friday, July 9 and Monday, July 12. We're picking different neighbourhoods than the Spring Edition's free sample circulation to attract more subscribers.
The remaining 1,000 copies go first to existing subscribers and advertisers, beginning as early as Thursday, with deliveries continuing through the weekend and mail outs across Canada Friday and Monday.
The story below is a promotional teaser and if you'd like a hard copy, it's $5 at retail outlets and $10 for mail or local delivery, plus $5 for each additional order. Email magazine@backinthebay.ca to order your copy or for a confirmed list of retail locations with stock.
The Summer Edition covers a lot of ground, both generationally and in subject matter, offering something of interest to the majority of readers.
First up is another great cover reflecting days gone by, visual time warp for boomers who remember their parent's cars and early years. This issue's cover photo comes from Suzanne Sweet with her eldest sister Lillian sitting on the hood of the truck her father Aurele St. Amour drove for Owen's Cleaners. It was taken in 1947.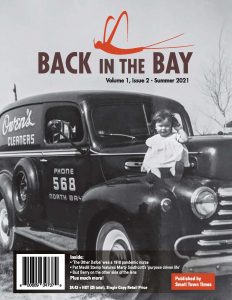 Do you have a photo that might make a great cover or inside story for a future issue? Email editor@backinthebay.ca
The lead feature in the 2021 Summer edition is a tribute to theatre icon Marty Southcott by Pat Madill Stamp. Five great photos are included in her Sentimental Journey.
"It is not an exaggeration to say that for almost forty years Marty and Art Southcott had a profound relationship with thousands of young people in North Bay. Together they were a dynamic, dedicated and life affirming team but Art is quick to credit Marty with being the one in the lead."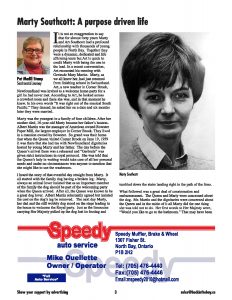 That's followed by several shorter spotlights, including a page each for Bud Berry, retired chief photographer after three decades with the Nugget, and Fred Tayler, active service club volunteer who got good training under his grandfather 'Pop' Tayler's wing and Fisher Street Gang role models. Both stories were cut a bit short with a pointer for more photos and audio clips to be found on the Small Town Times website. It's a combo of print and online story telling and micro test of ways to attract traffic online from the print product.
There's a pic of Colin and Noreen Vezina celebrating their 65th anniversary (and letting us plug life celebration ad in the Fall Edition, for more info email: editor@backinthebay.ca).
A Joe Cundari photo lets readers know about the Small Town Times feature on the bucket list artist. Find the photos and video, HERE.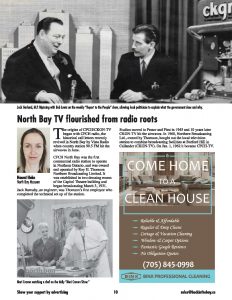 Naomi Hehn, of the North Bay Museum, writes about the city's television past, which actually stemmed from the deep radio roots in the community. Assisting her piece was Peter Handley of the Municipal Heritage Committee, a local veteran of radio and television broadcast journalism.
"The origins of CFCH/CKGN-TV began with CFCH radio, the historical call letters recently revived in North Bay by Vista Radio when country station 90.5 FM hit the airwaves in June," Hehn's column begins.
We even managed to get two pics in for Gerry Emond's 100th birthday. The well-known former fuel service station owner joined the Century Club on Canada Day.
Please forgive the publisher's ego in blowing up his photo of Darren Turcotte taking a Ponderosa slap shot in 1987. It was an exciting time for covering the OHL and that era hits two important demographics for the magazine, the boomers and their kids who watched the early Centennials.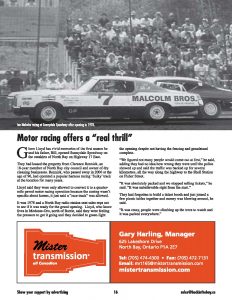 On Page 16, you'll find more about the Sunnydale Speedway, this time going straight to the 1978 opening with advertiser Mister Transmission sponsoring a page of coverage this issue and next.
Other subjects where sponsors could help spark coverage: horsing history, business nostalgia, sports famers and entertainment icons.
One of the deadline decisions involved making room for a football story, sparked by the death of a former North Bay Ti-Cats player who just happened to be in a 1965 photo that was in the lineup for possible publication.
Ron Gravelle, Sr. represents all the young athletes who showed tremendous promise and had chances at higher levels – but their dreams were deflated by serious injury while striving for their best.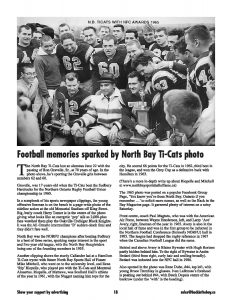 A strong response to the photo being posted online showed interest in many of the players in the team photo, pushing the story into a two-page spread.
Two more features in the magazine showcase the resilience, strength and determination of women.
Sandra Shier shares her story about Annetta Tromley who used her entrepreneurial spirit to raised her four daughters after husband Herbert, died young.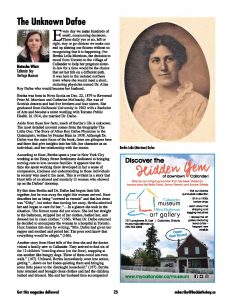 And Natasha Wiatr, curator of the Callander Bay Museum, writes about Bertha Leila Morrison, a nurse who married Dr. Allan Dafoe long before the Dionne Quintuplets. She assisted the sick in the area during the Spanish Flu and contracted meningitis while tending to an ill family, dying years later of a tumour the doctor blamed on the viral infection.
With the current pandemic and toll taken by front line health care workers, it's a timely story honouring such sacrifices.
A feel-good business story was sparked by another photo that attracted a truckload of positive response when posted online at the Facebook Group, 'You know you're from North Bay, Ontario if you remember …"
The pic, published by the North Bay Independent in 1989, featured Vic's Shoe Repair, a small family owned and operated business with almost six decades of satisfying customers. Several hundred people made comments online about their respect for them.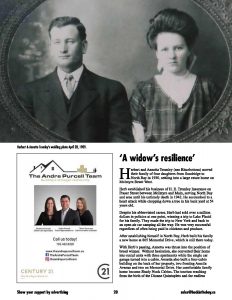 Pam Handley's Heritage Matters column continues her focus on the voyageurs and the La Vase Portages, which was timely as it's among the topics promoted in the Tourism North Bay centre-spread newsletter.
Phil Koning's Turning Over Rocks column urges the provincial government and Ministry of Transportation to move a little faster on the rail passenger service plan for Ontario Northland. He says there's a ready market of southern Ontario residents who want to find travel adventure within the province.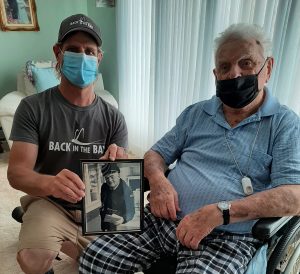 Dave Dale's editorial concludes on Page 28 with a photo of Roland Brisson, 90, who subscribes to the magazine. Dale featured Brisson in a 1989 story right before his retirement from Canada Post. And meeting him again 32 years later highlighted what's important about just about anybody's work: the people who are your customers.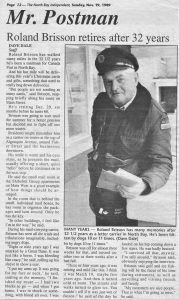 If you want to support community journalism, e-transfer a small donation to davedale@backinthebay.ca or buy a subscription for $30 to receive three editions.

Dave Dale
Writer, photographer and proud father. My mom's family is from the Soo with its Algoma Highlands, dad hailed from Cobden in the Ottawa Valley and I spent my teen years in Capreol. Summers were at the beach on the Vermillion River and winters at 'The Rink.' Born in East York but Toronto never was my thing. Ever since a kid looking out the window on long trips, I imagined living on the highway in a little house with a big yard and trees growing all around me.