A heart-warming tale of two dogs won the 2021 Back in the Bay Magazine's Pet Portrait Painting by artist Joe Cundari.
Kim Allaire initially submitted a photo and story about her Miss Nica. A therapy dog that loved to visit long term care residents, she had passed away this summer.
Miss Nica, a Labrador Retriever mix breed, had a full life after a rough start being abandoned at the Birchaven Cove after having a litter of pups 12 years ago, she wrote after receiving the Fall Edition in the free sample distribution in September.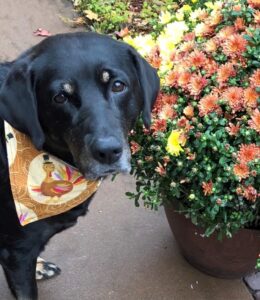 "She was nervous, very thin and afraid of her own shadow," Allaire said. "We welcomed her to our home and she became such a special part of our family. She loved to swim in the lake, run in the bush, go for car rides and be with her humans."
She was also one of the first dogs in the area to test a type 1 diabetes monitor designed for humans but effective also for pets. Miss Nica endured her condition and valiantly battled it in her last years with the valued support of veterinarian Dr. Paul Sidhu of Airport Animal Clinic.
"Right to the very end she was always wagging her tail and the happiest girl ever," Allaire wrote. "She will be 'fur' ever in our hearts."
A beautiful story on its own, Allaire followed up on the eve of the contest closing with another submission (each household being allowed up to three entries), the second one describing her other dog, Honeybee, an Australian Labradoodle.
"She came into our lives for a very special reason," Allaire said, explaining how Honeybee arrived four months before their "Old Soul" Miss Nica passed away.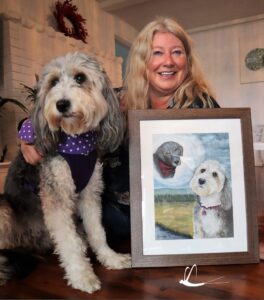 "She helped our family when we were dealing with the loss … Honeybee is sweet, fun, lovable, happy-go-lucky and very cute. She melts everyone's heart and loves to give Doodle hugs," Allaire said.
"I often have people tell me that she would make an amazing therapy dog. My hopes are that one day when life returns to normal, she will be able to share her gentleness and sweetness in that role," she said.
Cundari and magazine publisher Dave Dale presented the prize, a matted watercolour in wood frame, on the weekend.
A video of the presentation can be viewed at the bottom of this article.
It was a challenging painting, Cundari said, noting that two subject elements compete for a viewer's attention and make it hard for each pet's personality to shine through.
Cundari said he was happy that Allaire appreciated the painting and thought that went into it.
"It's so beautiful and special, thank you so much," she said after giving Cundari a hug. "You know, I thought about that, that maybe both would have been nice, and you just had the right idea."
Cundari, who has completed more than 50 watercolour pet portraits and 150 paintings overall, said it brings him joy to see how much people love the artwork he creates of their animal friends. Other samples of his work are the bottom of this page. Contact him through his Joe Cundari Artwork Facebook page or email jlcundari@cogeco.ca
There were several very worthy contenders for the first prize with all submissions showing their deep appreciation for their pet with four runner-ups included below to make this story about the top five entries.
Jen Hunter-O'Brien's entry featuring Walter, an animal-friendly "country dog" that loves to go camping.
"We usually have to bring a separate tent just for him, as 200 pounds takes up a lot of space," she wrote. "He loves to play with all his farm animals, including lambs, rabbits, cows and chickens … he is a protector of the chickens, especially when they are chicks."
Rhona Kenny described her "loyal, well-mannered, gentle" Molly with genuine appreciation as well.
"Molly brings our entire family together with her love and she howls at our return when we have been away," she wrote about her adopted family member. "She's a lifeguard – when I go in the lake or pool she swims towards me to make sure I am OK. She is the best and first dog I have ever had."
Grace Gibson found her 'Tuxedo Tabby' at the North Bay and District Humane Society, sharing how Fearsome and her bonded through isolation of the pandemic.
"I had been checking the North Bay Humane Society web site periodically and one day I saw my cat … all eyes with a panicked expression," she said, adding it looked like he had "seen too much and lived outside too long."
She picked him up Jan. 20, 2020. "Little did I know this Tuxedo Tabby would be the guy who would fill my hours in the days of this pandemic. Little did I know that this big cat with the big 'Kelly' green eyes and big personality would soften the isolation and lighten the worry." Gibson said.
"Finnigan is the cat that love built. He has a great sense of humour, he never forgets, he knows what he likes and he is – so very protective of me. He has brought love and laughter to my home – he has brought joy in trying times – priceless."
And the judges also enjoyed reading about Joan Hambley's little Austin, who can teach everyone a thing or two about living life with a positive attitude.
"I try to be the person my dog thinks I am. In fact, I'm trying to be more like him. He takes life as it comes. No looking back, no looking forward, just completely in the now," she wrote. "He has no expectations that the future will make him happy or that memories of the past can make him sad. That's why Austin is such a happy little guy."
Hambley described Austin's enviable character with virtues all of us can emulate.
"He doesn't complain, argue or pout if things don't go his way. If he's hungry he just sits and looks at me. No water in his dish? He lies down beside it. Time to go for a walk? Scratch at the door or sit in front of me and stare until I get up and get the leash.
"At 12 years old he's my buddy and I'm his favourite person. He sleeps more than he used to but still loves a walk around the neighbourhood to check out any new smells. Basically, Austin and I are tight. To paraphrase an old song; 'We belong to a mutual admiration society, my doggie and me.'"
See the contest announcement HERE and a feature on the artist HERE.
All those who entered the contest will get a free three-edition subscription to Back in the Bay Magazine that is also transferable to a North Bay area-address or can be traded for back issues. Samples of Joe Cundari's watercolour pet portraits below: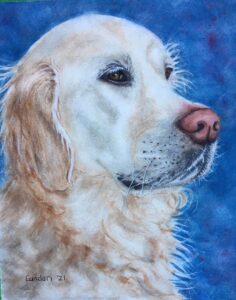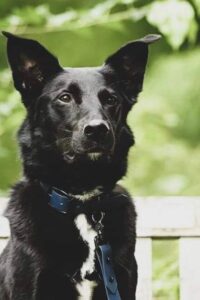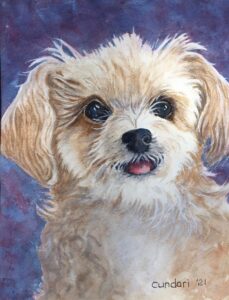 To comment on this story, send an email to: Editor@smalltowntimes.ca

Dave Dale
Writer, photographer and proud father. My mom's family is from the Soo with its Algoma Highlands, dad hailed from Cobden in the Ottawa Valley and I spent my teen years in Capreol. Summers were at the beach on the Vermillion River and winters at 'The Rink.' Born in East York but Toronto never was my thing. Ever since a kid looking out the window on long trips, I imagined living on the highway in a little house with a big yard and trees growing all around me.