Let me start with a little North Bay history, before my parents arrived there in May of 1941. By that time, it had grown significantly and was beginning to shed its 'frontier town' roots. Because of its location on waterways, North Bay was an ideal location for the lumber industry, which grew rapidly in the 1870s. Within a few decades, mines opened up north of the city. These industries were the impetus for North Bay becoming a major rail hub as well, providing a means of getting lumber and ore into the populated areas to the south.
Canadian Pacific's transcontinental rail line reached Nipissing Junction, south of North Bay in the 1880s, and continued on its ultimate route out west. The Northern Railway connected with the CPR there in 1896. Nickel, Gold, Silver and Cobalt soon were being shipped southward. In 1902, the Ontario government chartered the Temiskaming and Northern Ontario Railway (later renamed the Ontario Northland Railway) and by 1905 it had reached Cobalt and Cochrane by 1908. Thus, by the early 1900s. North Bay had two transcontinental rail lines running through it, and the only rail link to the north.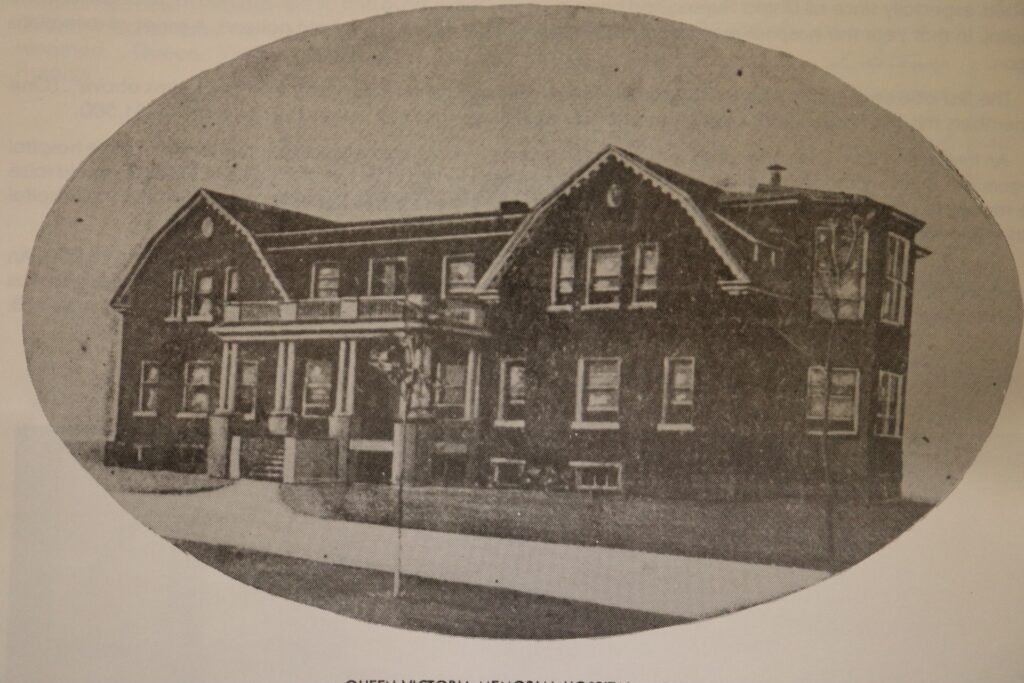 North Bay grew. Retail stores opened up to service the burgeoning population, and roads were added to the mix, as Highway 17 linked Ottawa, with Sault Ste. Marie and west. Highway 11 was extended north to Timmins and Hearst. The two highways crossed at North Bay. This convenient geography also made it logical for the country's two main railroads, CNR and CPR, to have their main rail lines pass through the city on their way west, and thus have divisional offices in North Bay.
North Bay was also an obvious place for Toronto companies to place a sales representative whose territory was all of the northland. I knew many kids when I was growing up whose dads were salesmen and traveled each week out to points all over northern Ontario. These salesmen usually were the sole employees of their firms outside Toronto.
Over that summer following their May marriage, my parents, Tom and Ruth, became settled in North Bay (then a city of about 16,000 people). They moved into the Westlake apartment on Main Street West I mentioned in my previous episode. The days of late August started bringing ever cooler nights. This would have been a relief, since the apartment's third-floor location was stiflingly hot in the summer, but that relief was short-lived, since it turned out to be equally as warm in the winter, as residents of the lower floors cranked up their hissing radiators. Windows had to be opened, even in the coldest months. Poor Mrs. Angus, the owner and landlady, must have wondered why her profits were so meager, unaware that much of the building's heat was being blown out third floor windows!
Apart from living in an inferno for two seasons, my parents enjoyed the apartment. It was indeed bright and sunny, and as dad had written to mom in one of his letters, it did look out onto Lake Nipissing. He also casually mentioned that the "CPR trains are between the house and the lake." Well, the "trains" were in fact the Canadian Pacific's main yard between Toronto and Sault Ste. Marie. Freight and passenger cars were switched and shunted day and night. Nonetheless, the rail yard turned out to be less of a nuisance than might have been imagined, although with the excessive heat necessitating open windows, soot from the steam-powered switch engines was an issue.
The apartment itself was small, but their furniture fit well into the space. A sloping ceiling in the combined living/dining area meant it would have been difficult to place a conventional dining table without taking a lot of space. Fortunately, mom had a gateleg table which compacted itself against the wall when not in use. The apartment worked out, albeit for two people. Then the following August, I arrived on the scene.
My parents found the Westlake neighbors to be friendly and sociable. Mom got to know the woman in the apartment opposite theirs, Ruth Moser, whose husband traveled
frequently. My parents became fast friends with an older couple Ernest and Lola Sale, who lived in a second floor front apartment. They saw each other socially until the Sales could take no more of winter, and retired to Boca Raton, in the mid-50s.
After that mom and Lola continued frequent communication by letter. When I arrived, the Sales were like another set of grandparents. Even after we moved into the house on Copeland Street in 1945 that would be my home for 17 years, the Sales were about the only baby sitter I had, and in fact, they would sometimes call and ask me to come over for dinner, which I loved to do. I'm sure my parents were grateful to have a short break from me.
So that's where I started the first 28 months of my life's journey, so you'll appreciate that recollections are scanty. That said, though, my time at the Westlake did produce my earliest memory. The latest date that it could possibly have been was January of 1945, since we moved to our new home that month. The absolute oldest I could have been was two years and four months.
So here's the memory: It was a Sunday morning. I went with dad to answer a knock at the door. Upon opening the door, there was Ernest Sale, clad in his housecoat, wanting to borrow some Worcestershire sauce to put on their scrambled eggs. Yes, I know. Why would any sane person put Worcestershire sauce on scrambled eggs? But Ernest was originally from England, so anything's possible in a country where people also eat black pudding.
NOTE: This column was initially published in the Fall 2022 edition of Back in the Bay Magazine.