Watching my son's first mixed martial arts fight was everything I suspected it would be – intense, brutal and bloody.
Many asked: "What were you thinking or feeling as your boy stepped into a cage to fight?" I tried writing a piece after the Jan. 28 match but it suffocated under too much projection and introspection. He was 24 years old and has a life of his own, making it vital I craft my words with care.
His second match, though, is scheduled less than a month away and no doubt another round of queries will come from the genuinely curious and concerned – they deserve more than a short elevator ride response this time.
"Not everybody looks at it like I do," I warn those who ask, adding whatever quip comes to suit, shock or otherwise satisfy. Sometimes they'd rather I not answer and shrug: "I'm cheering for him, like always."
Until this past Friday, I hadn't actually seen the "little guy" for a few months, although we catch up in chats often enough. He over-wintered elsewhere to rehab a training injury while working and saving for another camp at TriStar in Montreal. And now he's booked into the Montreal Fight League's July 8 card in Chambly, Que. vs David Wisdom in the welter weight division, Dylan's second southpaw opponent.
Not sure how, but I'm preparing for another road trip after my summer magazine hits the streets.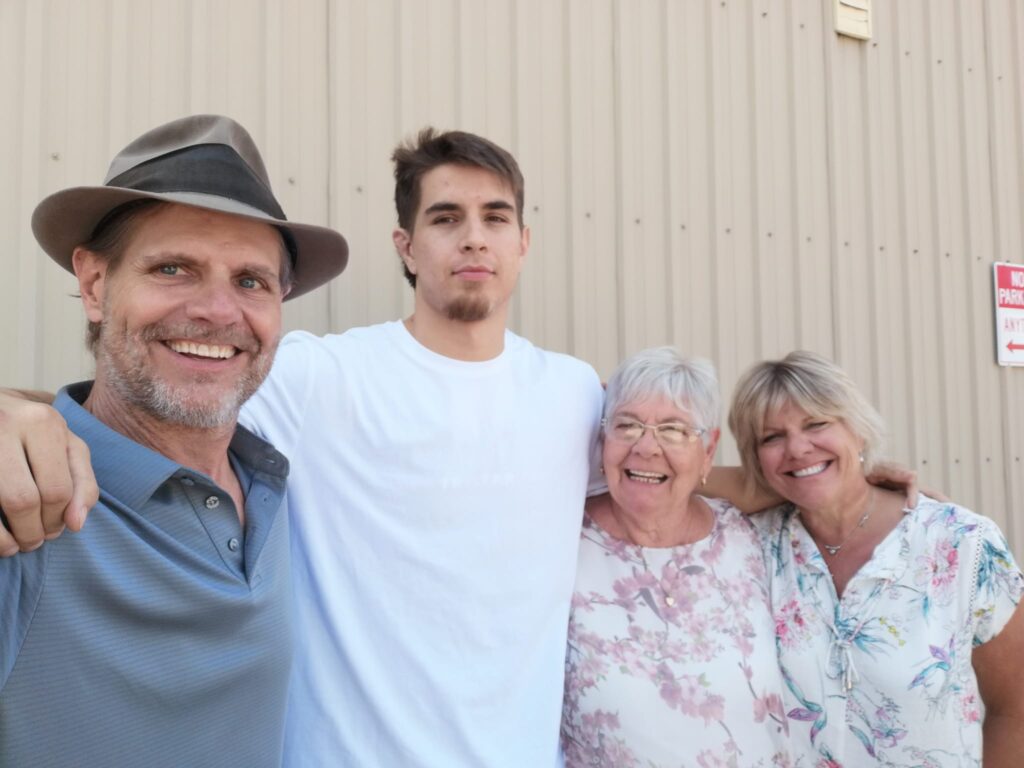 By fortunate circumstance, Dylan and I managed to each travel three hours toward the same location June 9 to share a rare overnight visit – which happened to be in my late father's hometown stomping grounds of Cobden and Renfrew.
It was an even rarer family gathering on my side drawing us together. Most of the surviving relatives were there for my Aunt Bev's celebration of life, dad's always-smiling little sister and last of my grandparents' Rhorison and Hilda Dale's seven children. I'll write something separate about Aunt Bev and the Dale clan another time.
Back to my thoughts at the MFL's Jan. 28, 2023 event in Sainte Agathe des Monts, Quebec and what I was feeling as my boy cut his MMA teeth against a very game Eddy Mogbock.
RECOMMENDED: Watch the short highlight reel of the fight to get a sense of what transpired (you can stop at 30 seconds if you're squeamish). Imagine what your thoughts would be waiting for the bell to ring – an anxious two wild hours on top of the two decades of contemplation prior – always knowing this specific moment in time will unfold.
First, I was grateful for the opportunity to be there for my son's MMA debut. There are times a six-hour drive in the middle of winter wouldn't happen. Sitting through 20 clashes before his match, however, wasn't very bright.
There was too much time to think about all sorts of potential outcomes. And yes, there are emotions when your mind drifts away to all the good and bad that came Dylan's way since a young lad. It was a roller coaster of memories shuffled with flashbacks of my journey as a dad.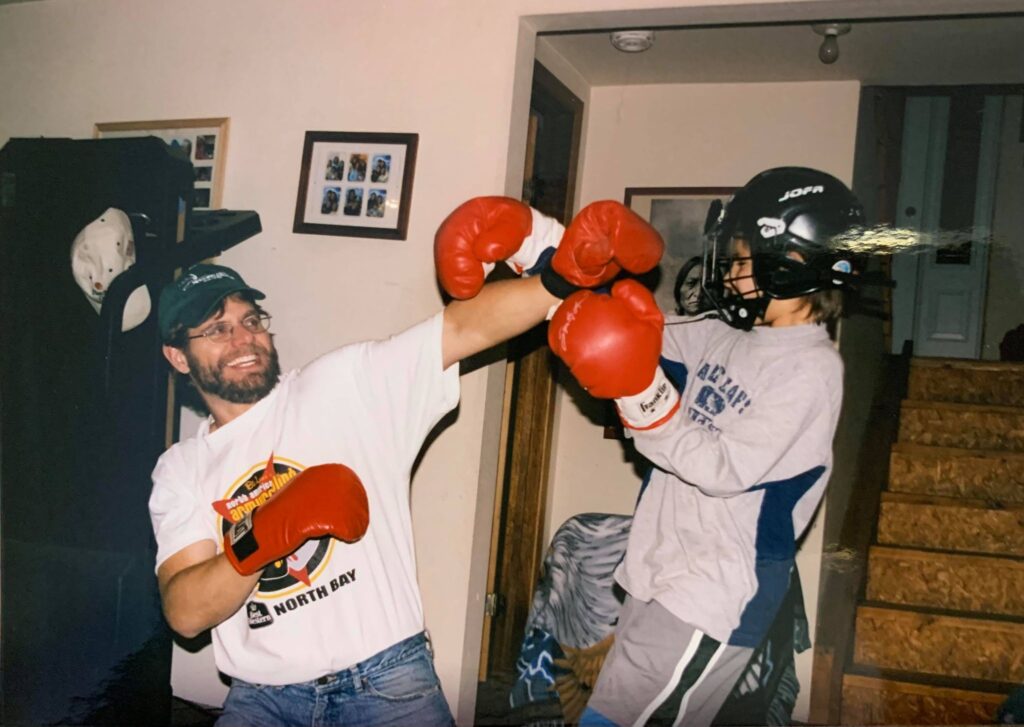 Rocky roads and challenging bridges to cross together and separately, life rewards pushing through and surviving. The odd moments of peace and beauty remind us it's worth a bit of blood, sweat and tears.
That's what was passing through my mind as I waited and watched other peoples' kids entering the cage two by two, each combatant and their kin carrying bags of hopes, dreams and maybe a pinch of reticence.
Was I going to feel elation, heartbreak or something never felt before after the dust settles?
One thing was clear, the moment at hand was in the cards for a very long time.
"Not everybody looks at it like I do … and you don't know Dylan."
I've seen my boy cut and broken before, so I was steeled against most outcomes short of fatal. And you have to consider that he's a man almost a third of the way through his life expectancy. His 25th birthday is being marked today as I conclude this missive. (Probably his best present was being able to spar with British pro fighter Arnold Allen, a top-five contender in the UFC featherweight division. He was a brute going five rounds in a loss to legend Max Holloway in his last match, his first UFC loss).
Keep in mind, I am also insulated by rational thought and deep veins of logic, although not deluded by it. He is like every spirit on the planet, they are better off following their own vision about life and which directions they believe best to travel. My father had strong doubts I'd be able to make a career out of journalism. He tried steering me toward business administration, figuring desk work suited my battered leg's reality. It didn't matter what he suggested, I knew the office life was a trap and not my best destiny.
How do you deal with your son taking shots and leaking life force in battle?
"A parent doesn't feel the physical blows, just the emotions of victory or defeat and what follows, the fear of tomorrow not the now."

Dylan, you have to know, has always taken the roughest path forward. He was literally born with an athletic spirit. He flipped into breach position right before birth to kick his way into the world (forcing emergency Caesarian section). His first stitches came from leaping out of his high chair.
From toddler on up, he played hard and paid high prices for the pleasure. Hockey, football, baseball, basketball plus more, rinse and repeat bruises, blood and breaks most of each season for 15 years. At this point, just pass the popcorn, take a seat and hope for the best.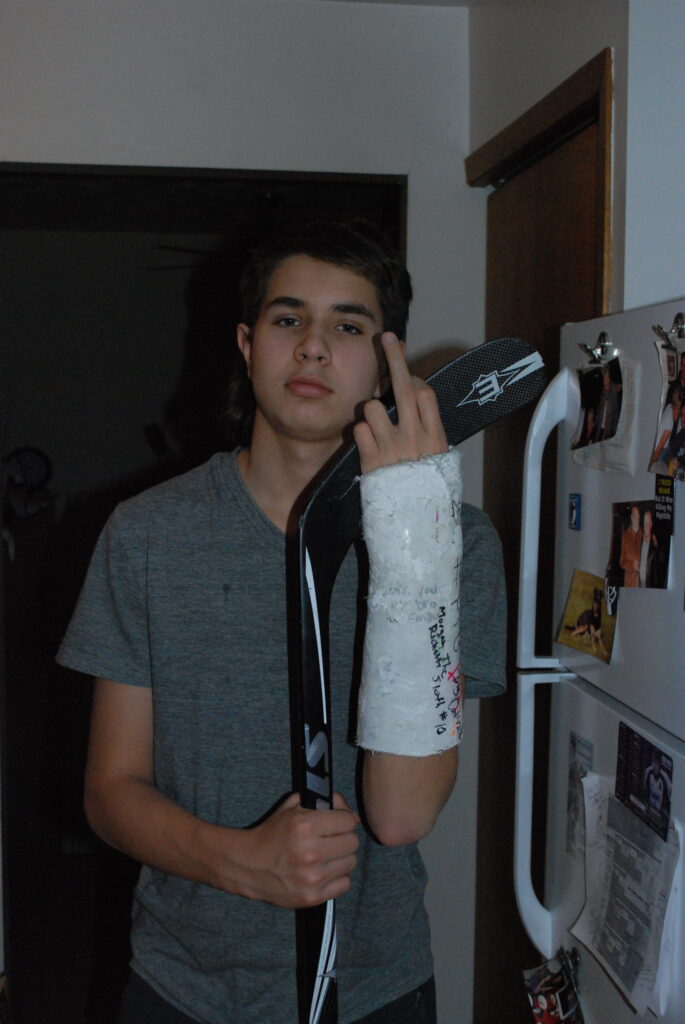 There to watch Dylan's first fight with me was my Uncle Bill, an 85-year-old example of what a hard life leaves behind – a fighting spirit if ever I saw one. Also attending was one of my uncle's grandchildren, a teenager soon to be a young man who had no inclination toward combat sports (but was intrigued and awed at the spectacle and looked forward to cheering on a cousin.) Also there were three of Dylan's best friends from the Nipissing District, fighters and football players themselves who know exactly what he was facing.
As I awaited Dylan's match, I found comfort in evaluating how the MFL was organized with officials and referees operating in a professional manner. As an amateur league, there was a range of talent – from obviously well-trained and skilled athletes, some ready for the pros, taking each other on, to pairs of obviously novice brawlers.
Not for the faint of heart
Things got real when a young man suffered a devastating knockout a few fights before Dylan's match. One of his TriStar team members had flattened his opponent almost immediately, leaving him motionless for an uncomfortable length of time. He rose to his feet on his own but then took the doc's advice and sat for a spell on the stool.
This game, if you can call it that, is not for the faint of heart. That was somebody's kid stretched out on the canvas suffering a serious concussion. If he could see stars that would have been a good sign.
I guess the decision to attend and watch Dylan fight was made easier (my only choice is to not be there) by my general perspective on life. Bad things happen even if you live in a bubble. And the real tragedy is when someone doesn't follow their dreams and heart.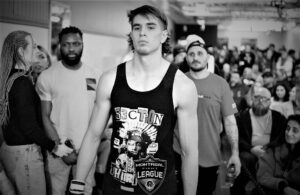 As far as serious injuries go, it seems to me combat sport is just as dangerous as football and hockey – maybe even less in relative terms. In physical team sports you never know from which direction the danger is coming. In the ring, it's one soul against another with all eyes on the two.
In my mind, the odds of injury also diminish with the level of preparation and training, along with the organization's adherence to safe protocols and regulations. In this case, the MFL, from what I experienced that night, were using well-trained referees and officials prone to ending fights earlier than later. And I only suspected one mismatch where the winner appeared above the other's skill level.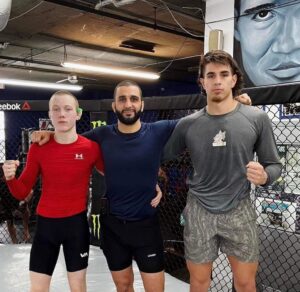 As for Dylan's preparation, he did more to get ready for his first amateur MMA fight than many do. He's been training with serious intent since arriving in Ottawa the fall of 2019, and despite the delays and disappointments a pandemic brings, he already had one amateur K1 Muay Thai fight and four jiu jitzu tournaments under his blue belt.
This past September, he trained in Arizona at notable clubs while sparring with mostly bigger and better fighters at Tim Welch's 'Soul Fighters' and the MMA Lab in Peoria. Among the highlights were sparring sessions with UFC's Jared Cannonier, who was preparing for an eventual decision win over Sean Strickland Dec. 17. If you look close, you can see Dylan in the background of a gym as a Sugar Sean O'Malley promotional video was shot.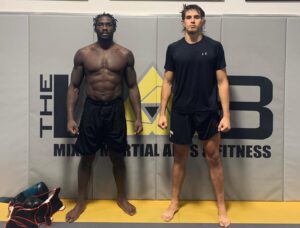 He capped off his preparation in January with almost four full weeks at the TriStar club in Montreal, one of the top outfits in the country. He even hired a nutritionist to plan out his weight cut, a key issue for beginners needing to cut 20 pounds from 190.
All in, I was comfortable with his practical and studied approach, from his choice in the club and coaching to the training regimen and MFL – yet I was just as nervous as I always am while watching any of his big games in other sports.
Maybe my perspective is unique from some parents. My mind drifted to the time I wanted to test myself in a ring, back when I was 17 years old and a new resident of Ohio. My parents didn't see my fight. Mom couldn't handle seeing me and Dad wouldn't want to miss a Christmas party.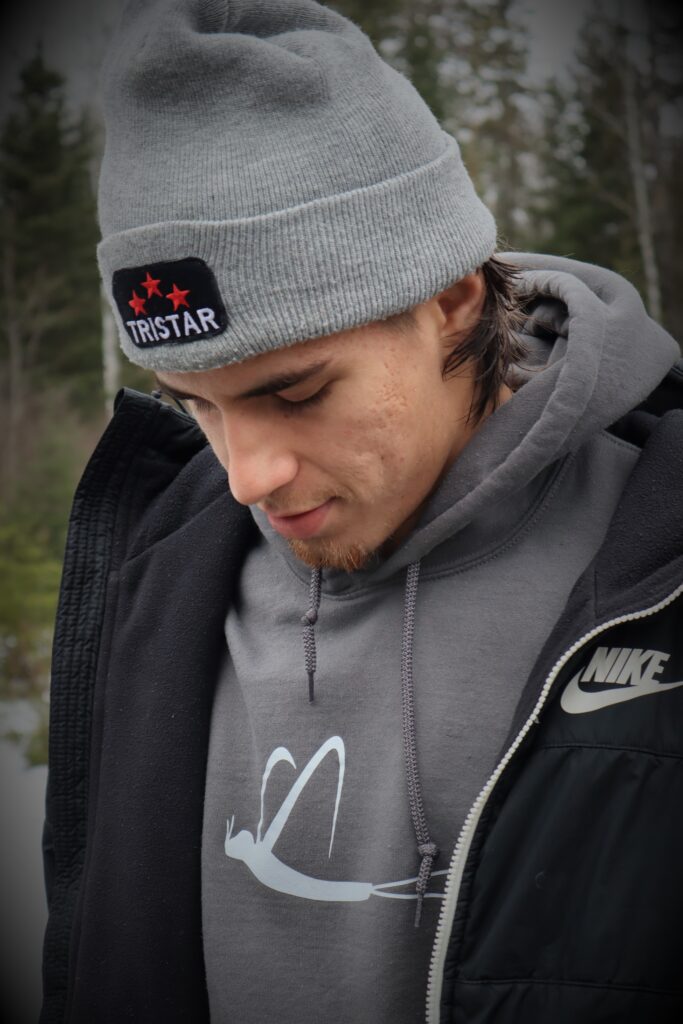 I used to joke with Dylan about having an undefeated boxing record, even though it was only one amateur fight and an ugly split-decision at that (in a converted fire hall in the middle of nowhere.) There's a funny tale about it if you ever get me in the mood.
It's actually not just about fighting, as far as I'm concerned, although Dylan likely dreams of glory and championships. And this weekend's UFC card in Vancouver, B.C. definitely helped motivate him further. All the Canadians had their arms raised – including Tri-Star's Aimann Zahabi, brother to head trainer Firas Zahabi (of George St. Pierre fame.)
In the end, regardless of how far he goes, Dylan said he wants to coach and train athletes while running a club someday. He recently earned his personal trainer certificate with CanFitPro. Being a professional combat fighter is part of building the resume and skill set.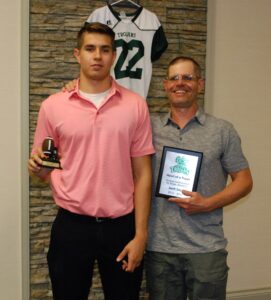 What could I say or do other than support his dream? Just a year prior, I had accepted a severance package to leave my mainstream newspaper job of 18 years with arguably less strategy involved. In the fall of 2019, I started a print magazine in the age of digital addiction, so I totally get reaching for the stars. Chasing dreams is what we do.
They say life is a roller coaster. And when you raise a child, it's like riding two roller coasters at the same time – yours and theirs.
It's also like jumping into the backseat of his very own race car. In either case, all you can do is hold on and enjoy the thrills.
Want to learn more about Dylan's MMA journey, see the story before the first fight HERE and feature before his trip to Arizona HERE.

Want to support him with a sponsorship or gift, E-transfer or contact him through dylan.dale@live.com

Dave Dale
Writer, photographer and proud father. My mom's family is from the Soo with its Algoma Highlands, dad hailed from Cobden in the Ottawa Valley and I spent my teen years in Capreol. Summers were at the beach on the Vermillion River and winters at 'The Rink.' Born in East York but Toronto never was my thing. Ever since a kid looking out the window on long trips, I imagined living on the highway in a little house with a big yard and trees growing all around me.